Busker Tommy Harvey is helping to entertain the crowds at Dockyard with some of their favourite songs.
Now retired after running a local restaurant, Mr Harvey "busks for fun" and plays the guitar and harmonica.
"I started at Dockyard this summer and it has been a great experience so far. The spectators and vendors have been very supportive," he said.
"I love to sing Bermudian songs. My favourites are 'Bermuda is Another World' and 'Bermuda is Calling Me', but I also love songs like 'Sloop John B', 'Yellow Bird' and 'Maryanne'. I enjoy entertaining people and keeping traditional Bermuda calypso music alive."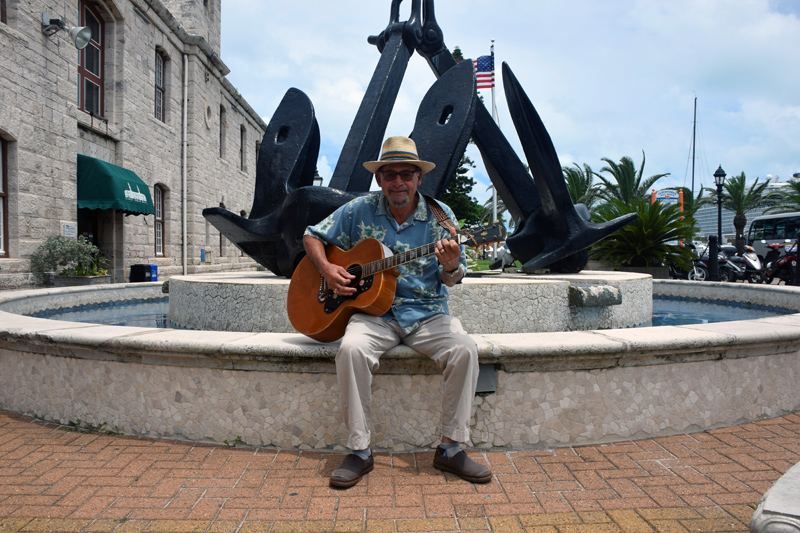 Mr Harvey added: "As a boy I learned the guitar from my Uncle Lloyd but due to family circumstances a lot of my musical education has been self-taught.
"I play by ear and in my adult years have taken lessons from Leon Jones and now currently attend lessons with Steven Crawford of the Bermuda School of Music.
"As a youngster I had a band called the Playmates which played all over the Island. A big inspiration and source of all of my songs was from my step-dad, the late Erskine Zuill, who was a famous Bermudian Calypsonian.
"He entertained at my restaurant, The Village Inn, and from him I learned the art," he added, saying he took what he learned and spent nearly 17 years  at the Frog and Onion restaurant up until 2014.
Stephanie Rodill, Marketing and Events Manager at the West End Development Corporation said: "We thought having a busker at Dockyard would add something a bit different and fun. We think Tommy is a great fit and we hope his talent is appreciated."
If you want to listen to Mr Harvey, his schedule is Monday 6pm to 8pm, Thursday 6pm to 8pm and Friday 11am to 1pm.

Read More About
Category: All, Entertainment, Music, News