Tickets for Annie, which is set to be staged at the Earl Cameron Theatre at City Hall starting on October 4, are now on sale.
A spokesperson said, "Set in 1930s New York during The Great Depression, brave young Annie is forced to live a life of misery at Miss Hannigan's orphanage. Her luck soon changes when she's chosen to spend a fairytale Christmas with famous billionaire, Oliver Warbucks. Meanwhile, spiteful Miss Hannigan has other ideas and hatches a plan to spoil Annie's search for her true family.
"With its Tony award-winning book and score, including the unforgettable songs It's The Hard-Knock Life, Easy Street and Tomorrow, this is a show not to be missed."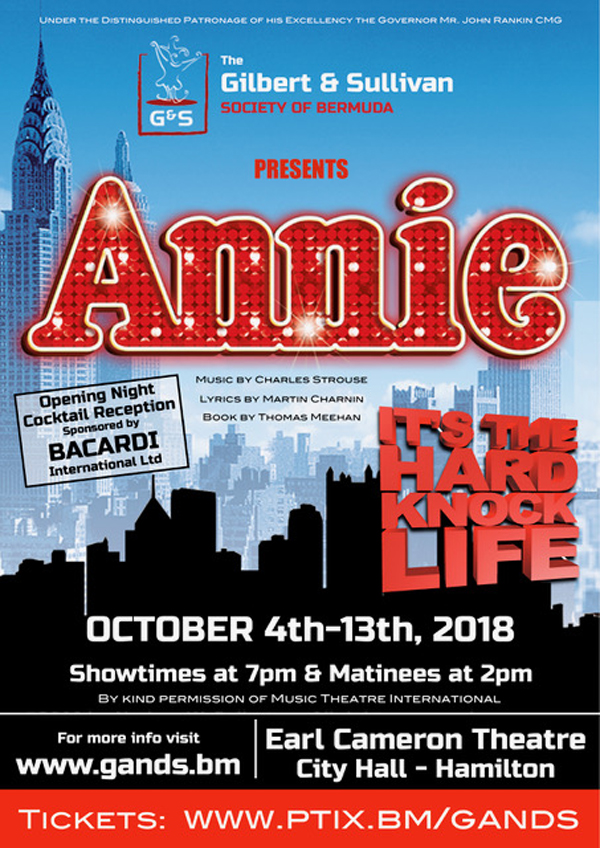 "The show runs from October 4th to the 7th and then from the 9th to the 13th starting at 7pm at the Earl Cameron Theatre, at City Hall in Hamilton. There are three additional 2pm matinée performances on Saturday, October 6th, Sunday, October 7th and Saturday, October 13th. Tickets are available at ptix.bm/gands.
"G&S is one of Bermuda's premier producers and presenters of musical theatre. Since its inception in 1972, we have grown to become one of the most successful performing arts organisations in Bermuda. We entertain over 4,000 theatregoers every year.
"The mission of the Gilbert and Sullivan Society of Bermuda, a charitable organization, is to entertain and educate the community by producing professional-quality amateur theatrical works and to support the education of performing arts students."
Read More About
Category: All, Entertainment, Music