[Updated] Business confidence in Bermuda has "dropped dramatically", there is "pessimism in Bermuda's private sector" about the economy, and "concerns are increasing about taxation, the cost of doing business and Bermuda's declining population."
This is according to the Bermuda Business Confidence Index [BCI] which is a survey of business owners and executives across industries, with 138 surveys were completed between April 18 and May 24, 2018.
Chart extracted from the report: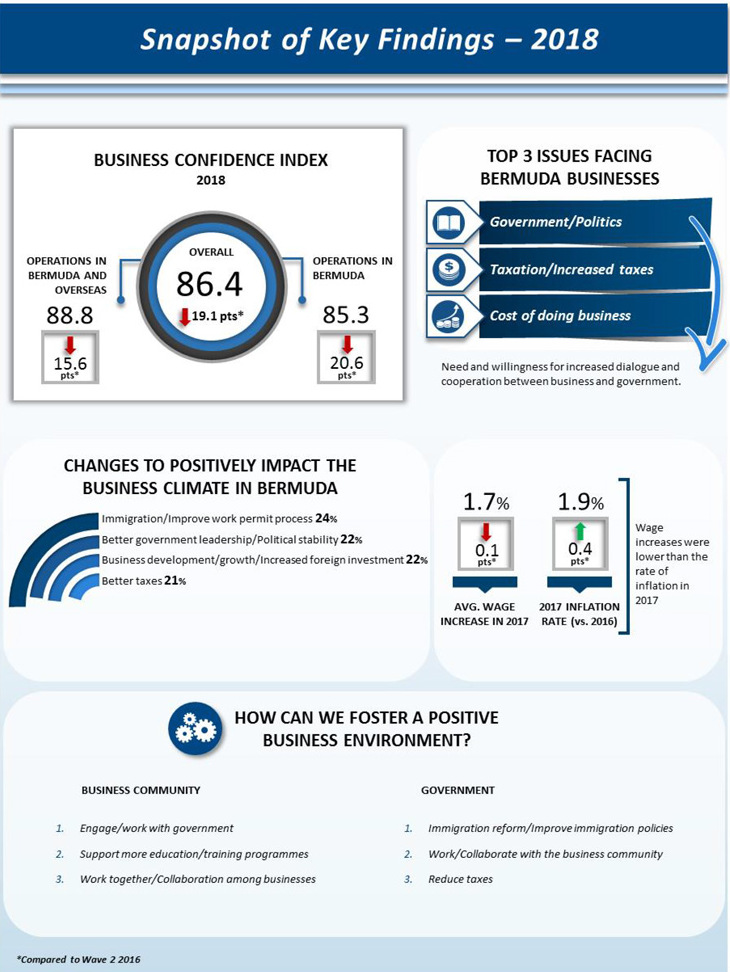 According to the Survey's Executive Summary, "The results of the 2018 survey suggest that business confidence in Bermuda has dropped dramatically since the previous study in 2016, and is now at its lowest point since tracking began in 2014.
"The Business Confidence Index [BCI] – based on nine economic considerations evaluated by business leaders – has fallen almost 20 points since 2016 to 86.4, slipping below the benchmark index of 100 points for the first time/
"The record-low BCI reflects a widespread pessimism in Bermuda's private sector about the state of the Island's economy and its prospects over the coming 12 months.
"Such attitudes contrast with the Ministry of Finance's 2017 National Economic Report, published in February 2018, which states that Bermuda's economy expanded marginally over 2017 and 'is projected to further improve,' conditional on various factors including increased employment, growth in tourism and capital spending.
"This survey suggests that following the first quarter of 2018, the business community does not share the government's optimistic projections for the year
"As in previous years, the business community points generally to Bermuda's government and politics as the top issue facing the Island today. However, this concern has eased significantly since 2016, while concerns are increasing about taxation, the cost of doing business and Bermuda's declining population.
Chart extracted from the report: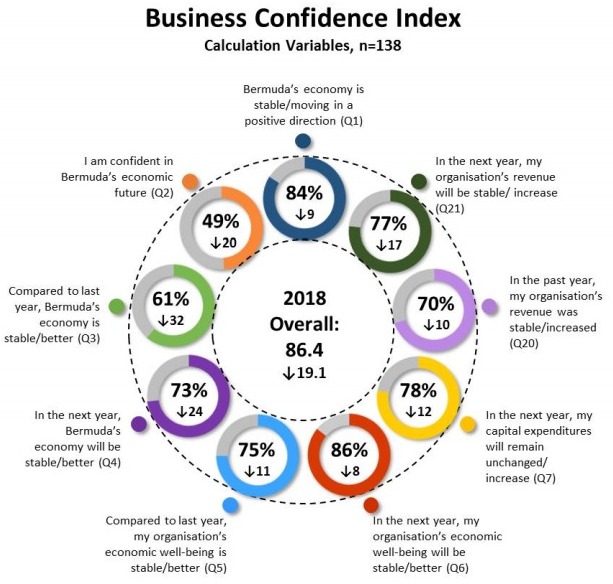 "Business people say one of the most critical actions the government can take to help the private sector is to promote immigration and streamline the work permit process. For their part, many business leaders say they need to work more closely with government to achieve their goals."
"If there is any good news to be found in the survey it is that on the employment front, businesses expect to marginally increase their full-time staffing levels in 2018.
"This survey shows that Bermuda's business community is becoming increasingly concerned about the structural state of the island's economy, its competitiveness and its ability to attract investment.
The survey notes, "Some relief may be available in the form of higher government spending following years of austerity [civil servants received a 2.5 percent pay raise in the most recent budget], and in efforts announced by Premier David Burt to begin making structural changes, such as allowing majority, non-Bermudian ownership of domestic businesses, thereby encouraging the investment of locally-earned revenues back into the Island economy."
Chart extracted from the report: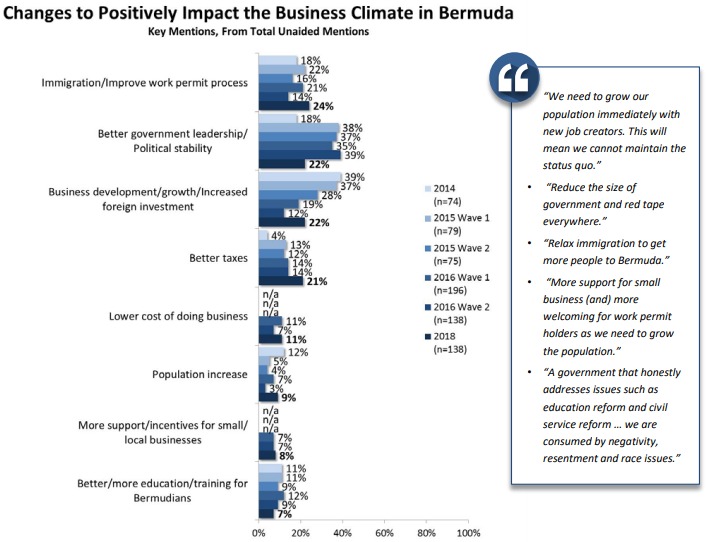 "In unaided mentions, one-quarter of businesses say that improving immigration and the work permit process is one of the best ways to help the business climate in Bermuda [up 10 points from 2016]. Those most likely to mention immigration are large enterprises with international operations, and those in the financial services and insurance sector.
"Better government leadership and stability, although mentioned less often than in 2016, is still considered important by one-fifth of businesses [down 17 points]. Business development and foreign investment, and better taxes, are also each mentioned by one-fifth of businesses."
Update 2.36pm: Premier and Minister of Finance David Burt stated, "The report highlights economic and external factors impacting Bermuda businesses and the confidence in Bermuda's business environment. This is one snapshot in time and provides an opportunity for Government and business to work together to continue to strengthen our economy.
"As I have stated, the first quarter results show: Government revenues are up; Government spending is down; the deficit is down by 24%; Visitor air arrivals are up; and employment in the economy is up.
"Is everything perfect? No. We still have a long way to go."
The Premier added, "This Government is committed to working with local and international companies to grow the economy and create jobs for Bermudians.
"In the 2018-2019 Budget Statement, I stated, 'Bermuda's economy is in desperate need of economic diversification as a means to provide additional jobs and careers for Bermudians. The Government will ensure that Bermuda is poised to meet new demands and will be aggressive in reaching out to new global areas of growth.'"
The Premier concluded, "The Business Confidence Index is one benchmark for Bermuda. We can measure our future successes against where we stand today.
"We have a joint responsibility to work together to improve economic growth and diversification, to create business opportunities and jobs for Bermudians. My door is open. I am available to hear the concerns of the business community with a view to finding solutions together."
The full report is below [PDF here]
Read More About