Premier David Burt will be the only person standing for nomination for PLP Party Leader, while both Walter Roban and Scott Simmons will stand for Deputy Leader, the PLP confirmed today.
In addition Dawn Simmons and Damon Wade will stand for Party Chairperson, while Lauren Hayward Bell, Colin Gilbert, and Alexa Lightbourne will stand for Deputy Chairperson.
Walter Roban, the current Deputy PLP Leader, will be challenged by Scott Simmons: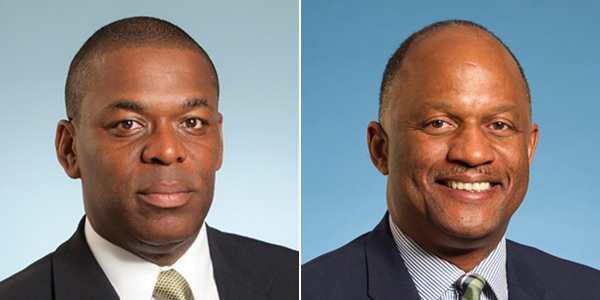 A PLP spokesperson said, "The Progressive Labour Party is thrilled at the level of excitement surrounding this year's Annual Delegates Conference 'Building a Better & Fairer Bermuda: The Next Chapter', to be held from October 24-26, 2018.
"Delegates are signing up and a number of people will be running to fill spots in the Party Executive. We are especially enthused about the energy around the upcoming Throne Speech and the second year of delivering for the people of Bermuda. The next legislative year will be a critical one as we address many issues impacting our country.
"We can confirm today the following nominations for key Party Executive Positions, to be voted on by the Delegates at the Annual Delegates Conference Election of Officers.
Party Leader -
Mr. E. David Burt, JP, MP
Deputy Leader -
Mr. Walter Roban JP, MP
Mr. Scott Simmons, JP, MP
Party Chair -
Ms. J. Dawn Simmons, JP
Mr. Damon Wade
Deputy Chair -
Ms. Lauren Hayward Bell
Mr. Colin Gilbert
Ms. Alexa Lightbourne
"As per the Party Constitution, positions that have more than one candidate must be voted on at the ADC by the delegates.
"Where only one candidate name is submitted, it is automatically determined for that person to be the successful candidate, thus it can be duly noted that the Party Leader, the Hon. E. David Burt, will continue as the Party Leader.
"We look forward to an inspiring conference which will begin on Wednesday October 24 with our Opening Night Address from Party Leader, the Hon. E. David Burt, JP, MP, at St. Paul's Centennial Hall. We invite the public to join us!"
Read More About