"The Government is committed to supporting fair business practices that meet the highest standard of corporate community responsibility," Premier David Burt said today, adding that "even a monopoly must act right."
Background Summary
Yesterday BELCO's parent company Ascendant Group announced the "departure" of four senior executives — Denton Williams, Michael Daniel, Carol Ross-DeSilva & Zehena Davis — saying that "two have resigned and two positions were made redundant."
The four executives, combined, had been with the company for over 80 years, and they marked the second group of employees to leave the company recently, with three staff members having been made redundant last month.
This morning, BELCO workers gathered outside the building and attended a meeting in the afternoon, and Union officials confirmed that the Electrical Supply Trade Union [ESTU] "will be instituting a work-to-rule and demand the immediate reinstatement of the four qualified, displaced Bermudians."
Premier & Ministers Meet With ESTU Executive
Premier and Minister of Finance David Burt, Minister of Transport and Regulatory Affairs Walter Roban and Minister of Home Affairs Walton Brown today "met with the Executive of the Electricity Supply Trade Union in the wake of the departure of four senior Bermudian executives from BELCO," the Government confirmed.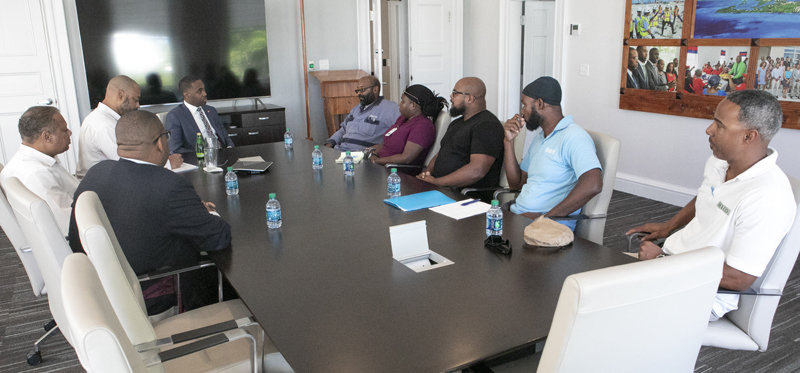 Premier's Comments
The Premier said, "It was important to meet directly with the workers' representatives who are justifiably concerned at a pattern of action by the CEO and the Board which is simply not in keeping with the community responsibility we expect from the company.
"The membership's reaction to this growing and seemingly deliberate culture of uncertainty that has only affected Bermudians is not something this Government will ignore.
"The management and Board of Ascendant have a responsibility to their shareholders first; but my responsibility and the responsibility of the Government is to the people.
"As the Union and its members work through these issues, the Government is committed to supporting fair business practices that meet the highest standard of corporate community responsibility. Even a monopoly must act right," the Premier added.
You can view our ongoing updates on the matter here.
Read More About