If you're a student under the age of 18 with an idea for a new business now is the chance to see if your idea is worthwhile, as the Bermuda Economic Development Corporation [BEDC] is looking for the next great business idea from students across the island for the 2018 Youth Pitch.
The Youth Pitch category of the Rocket Pitch Competition was launched last year in conjunction with Global Entrepreneurship Week, a weeklong celebration to inspire, mentor and engage the public around all things entrepreneurial.
Students who have a viable business idea and are willing to start a business, are asked to submit their ideas by October 31.
The framework of the Rocket Pitch presentation is simple: the presenter has five minutes and eight slides to tell a story on their business idea to a panel of judges and then respond to questions.
For the Youth Pitch category, this process will involve a public preliminary competition to be held on November 7th at the Bermuda College. The top two chosen students advance to the Rocket Pitch finals on November 15 with the opportunity to win a cash prize and start up support services.
Last year's Youth Pitch winner was Chaella Bradshaw-Douglas whose idea, Good Chew was a healthy choice vending business she planned to provide in and around Bermuda's schools.
Chaella Bradshow Douglas pitching her business idea, Good Chew, in front of the 2017 Rocket Pitch Judging Panel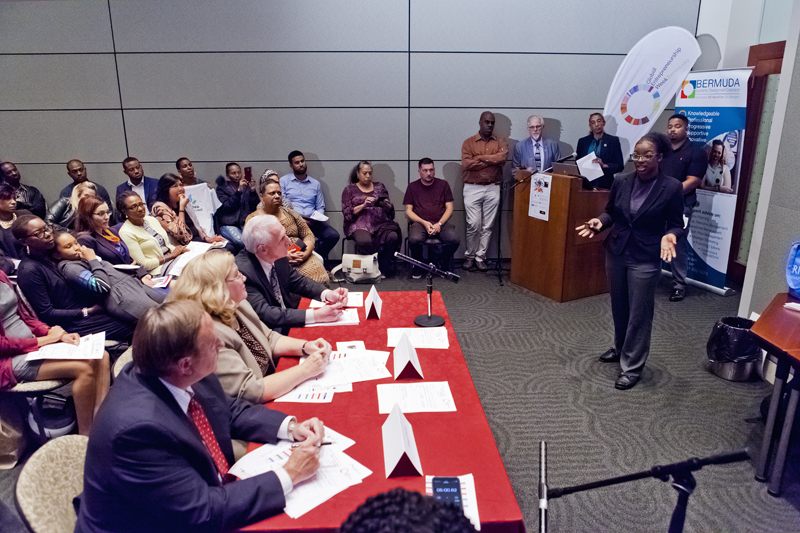 Mr. Raymond Lambert, Business Development Officer at BEDC, said, "This is a great opportunity to turn your business idea into reality. What we have found is that young people look at things from a different perspective, and this year we are looking to find some very exciting submissions.
He added, "Last year we were very surprised with the level of responses and this year we expect to have even better submissions and a very competitive event."
The BEDC said, "Those who are interested in submitting a Youth Pitch will also find that they will receive plenty of support from the BEDC with workshops taking place on the 17th, 18th and 20th of October at the BEDC offices.
"The free workshops will consist of presentation tips and coaching. All contest pitches will need to be submitted on Power Point with all submissions due at 5pm on Wednesday, October 31st.
"Another support opportunity will take place during the week of October 22nd – October 26th at BizCamp run by the Youth Entrepreneurship Initiative of Bermuda [YEI]. Students interested in getting further help with their pitch will have the opportunity to practice their presentation at the week-long camp."
Joe Mahoney, Executive Director of YEI, said, "This is a great opportunity for young people to formulate their ideas into a business pitch. The rewards for the top two is certainly worth the effort. YEI supports the Youth Pitch through coaching and we will hold a special BizCamp to provide further support."
For further details, download the "pitch kit" at www.bedc.bm or contact Ray Lambert at BEDC tel. 292-5570 or email rlambert@bedc.bm .
Read More About