During its tenth anniversary, the Kicks for Cancer campaign – hosted by North Village Community Club and Freisenbruch-Meyer – has raised $4,515 for the Bermuda Cancer and Health Centre.
The fundraiser donates money for every goal scored by the club's premier and junior league football players during Breast Cancer Awareness months.
North Village Community Club President Shervin Dill said, "The players are enthused by their participation. It gives the team a sense of pride to know they are doing it for such a very worthy cause."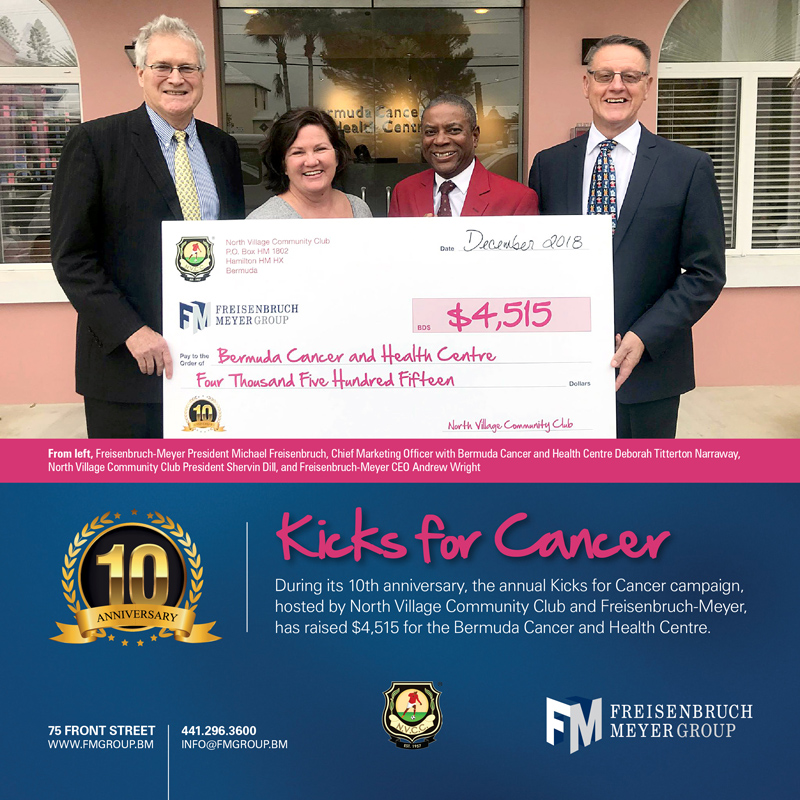 "Over the years, as it evolved, we got our youth programmes involved with it as well, so the youth then had a very good appreciation of what the club responsibilities are and what the club has been doing outside of football, outside of sports, for the community. We're particularly grateful to our partners, Freisenbruch-Meyer, for their participation and continued generous donation."
Azuree Williams, Bermuda Cancer and Health Centre events coordinator, said, "On behalf of the Bermuda Cancer and Health Centre, we are very grateful for the hard work and dedication of the NVCC football club year over year along with Freisenbruch-Meyer's involvement.
"They continue to assist the community during breast cancer month allowing women who are underinsured or don't have insurance to now receive the services we offer, thanks to the Kicks for Cancer campaign."
Read More About