[Written by Patrick Bean]
The power of self-will, discipline and commitment is evident in the exponential leaps and bounds being made by Bermuda youth international goalkeeper Za'Khari Turner in her studies and athletic endeavours.
The 15-year-old member of the triumphant Bermuda female team that won the CONCACAF Girls' Under-15 Championship Division Two title in Bradenton, Florida last August, is now embarking upon an exciting new challenge as she takes up position at the highly revered IMG Academy, which announces itself as the world's largest and most advanced multi-sport training and educational institution.
On Saturday, Turner opened the newest chapter in her unfurling story of achievement at the school, which includes among its alumni or those having trained at IMG the likes of one-time US soccer prodigy Freddy Adu, as well as current Bermuda national player Casey Castle and Taurean Manders.
It was as once unexpected and gratifying how the maturing female came to the moment of entering the hallowed halls at the place that started as a dream in the mind of legendary tennis coach Nick Bollettieri, beginning as the first full-time tennis boarding school, providing young athletes the opportunity to train at a higher level while pursuing their academic aspirations and having the likes of all-time greats Andre Agassi and Jim Courier in its stable before morphing into a total sport facility.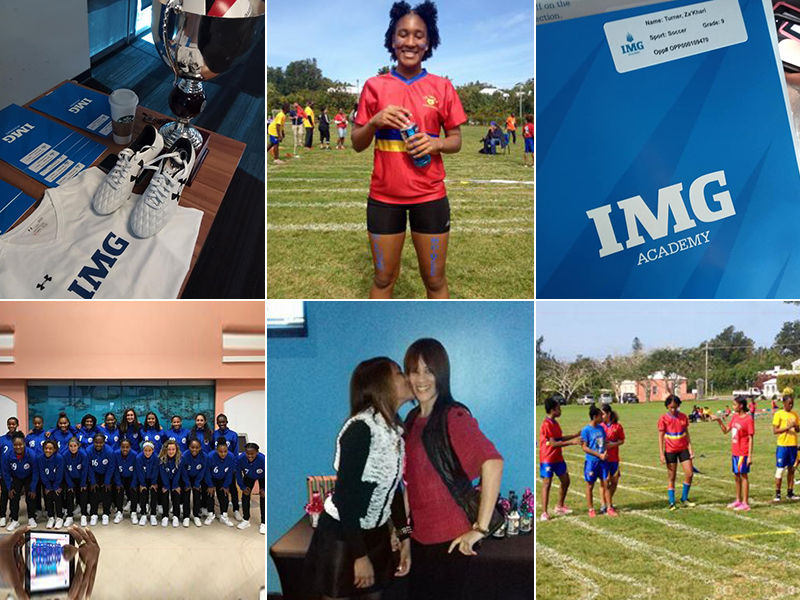 Za'Khari already had a great desire to attend the institution prior to the tournament in Florida and had applied following a site visit. What she did not know was that she was in turn being scouted by the school's recruitment force during the aforementioned tournament. And thus, upon her forwarded application for consideration as a student, she was not only accepted, but granted a scholarship.
"I'm grateful and excited to have this opportunity to further myself in my craft and enhance my pro prospects," said Turner, whose athletic promise has well been evident even as she switched from track and field to soccer. "I love soccer and it's my dream to become a professional player and IMG is a place that will help me get closer to realising my dream."
The decision to leave the track and take to a position between the soccer goalposts, a role that involves much forcible contact and demands great physical presence on the ground and leaping off of it occurred much to the initial chagrin of mother Dabrina Turner, who figured the sport a bit too rough for her daughter.
"I was fine with the track, but when she said she wanted to play football I was not okay with that, I thought it was too rough and she'd get hurt," said the mother, who has worked the past 16 years with the learning disabled community at Mid-Atlantic Wellness Institute as well as being a hair and beauty stylist. "I just didn't see or know that she had any ability in football but Cal Blakendal of the Brazilian Academy, a good friend of mine, asked me if I would let her come out and play football.
"She [Za'Khari] wanted to do it but I was saying to them: 'No football, stick with track. No football, track. But Cal saw something special in her and I eventually entrusted my daughter to him at the Brazilian programme and then she got a Kappa award at Kappa Festival and she wasn't even on a real club team.
"I finally got the message of what Cal and [national women's coach] Nakita Robinson were telling me, that Za'Khari had real ability. Nakita directed me to have her join the national academy system, rather than a club, which is what we did."
Blankendal explained it simply, noting that while Za'Khari was not necessarily inclined to soccer, she had the overwhelming traits of courage and desire, key to any player, but goalkeepers in particular as they are a special breed of player.
"She did not have a clue about football, she was doing track and that's all she knew," said Blankendal, also of local club Dandy Town and who operates a business committed to the welfare of student/athletes seeking career and academic advice, and those needing skilled, experienced direction toward achieving sporting goals whether in the professional or furthering academic spheres.
Since the initial conversion, Za'Khari has obtained loose affiliation with Robin Hood FC, as well as competing internationally. She has demonstrated solid technique and positioning, adapting well to keeping and defensive concepts and is again and most of all valiant, in a position which often places one in exposed and compromised posture.
Another recent acceptance letter also brought great news, with Za'Khari receiving notification of her being naturalised by the United States, opening up further possibilities and options for unfettered advancement within the continental USA, including playing for their national team.
However, while her favourite player is USA goalie Ashley Harris and she'd fancy herself as being a combination of Harris and former first choice Hope Solo, Za'Khari remains dedicated to her birth-right, Bermuda.
"If it was not for Bermuda and coach Nikita I wouldn't even be involved in football," she said. "Bermuda is home and has the place in my heart, so I'd always favour Bermuda, but the US does offer a great deal."
Certainly she has the full endorsement and backing of her mum, a single parent who has toiled, sacrificed, scraped and bartered long and hard for the sake of her treasured offspring. Dabrina has set up fundraisers, including a Go Fund Me page announcing the request for gifting toward tuition costs at IMG, where the younger Turner will board.
"I like the options offered at the academy and I've encouraged her to go for it and hopefully she can reach the higher standards necessary to fulfill her dream – she has my support," before adding how it has been a team effort between she and her family and friends to assist Za'Khari to this point.
"Getting her around to the places she's needed to go as a single parent I've had to reach out for help and accept help because I couldn't and didn't do it all on my own.
"I'm a single parent on paper and my family is not rich, but I don't have to account for everything because I have a brick wall behind me in my family and I owe a lot to them for supporting us, along with good people like Cal, Nakita, the BFA and others who lent their knowledge, understanding and commitment to the process."
Nevertheless, there remains much to learn and more to accomplish for the younger woman, who has a 'Plan B' of becoming a physical therapist and to become involved in coaching. However, the present is no time to activate any secondary plans as Za'Khari and Dabrina seek to rise in tandem to the next level and beyond.

Read More About