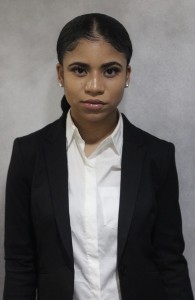 [Generation Next Youth Movement Series]
The development of self-confidence is vital in any journey toward personal achievement. It grants the ability to accept who you naturally are and refuse to allow society and your peers to influence how you present yourself to the world.
The majority of people have an issue with this, however our young women can sometimes feel these pressures, and this is what Tori Lanae Cariah and her creation of the PG Movement [PGM] is fighting against.
When asked about her background, Ms. Cariah said, "I was born in Bermuda on January 23, 1998. At the age of 2 years old I moved to Lithonia, Georgia, where I lived for 10 years before transitioning back to Bermuda.
"I spent nine months at Sandys Secondary Middle School before being accepted into Bermuda High School for Girls. In high school, I moved back to the public school system and graduated from the illustrious Berkeley Institute."
Even though she is young, the 20-year-old has experienced and adapted to many different environments. She has divided her life evenly between the U.S. and Bermuda.
She has faced different levels of expectations in these environments, and through this has been able to create her own idea of who she wants to be and what virtues she deems universally valuable to young women irrespective of where they are from.
This led us to question how her unique life experience thus far inspired the PG Movement and what the driving forces behind her creation are.
"PG Movement was created on November 18, 2017. The purpose of PG Movement is to be a platform to encourage unity and uplift women around the world. Initially the page was created to be a blog, but my plans have evolved as time ran its course," she said.
"It has evolved from an idea, into a blog and from a blog into a brand. I went from running the page by myself to having a PG Team that includes creative young women that contribute to the page's content. The page serves as a positive reinforcement for women that live in a world filled with hate and negativity.
"I believe young ladies in Bermuda face the pressures of society to be perfect. Often our media shows the perfections of role models and influencers but fails to reveal their real side or their imperfections. I would offer our young ladies the advice to stay true and love yourself.
"One of PGM's posts says that 'you don't have to be pretty like her, you can be pretty like you.' As women we tend to compare ourselves to those we idolize. I want young women to understand that the way they were made is perfect. Be confident in yourself and walk with your head held high."
To assist in fostering greater self-confidence amongst her peers, Ms. Cariah organised a women's empowerment conference at the Berkeley Institute entitled 'What's the Tea? A Guide to Becoming a Successful Woman.'
"What's The Tea: A Guide to Becoming a Successful Woman was the first event PG Movement held on Sunday, July 29, 2018.
It was a panel discussion consisting of nine influential women in Bermuda, including Olivia Hamilton, Rael Simons, Chelsea Warren, Tanaya Tucker, Nia Dailey, Patrina O'Connor, Destinee Taylor, and Garita Coddington.
Ms. Cariah said, "Overall, each woman carried themselves with poise and left a message with each audience member! To be fearless, to let go & let God, to stay true to yourself, to take risks and new adventures, to keep pushing when times get hard & of course, to be a BOSS. We laughed, cried, and even sang unitedly. What's The Tea is an annual event and will be held next summer, but I do plan to expand to different audiences and to America in the near future."
We then asked where she is currently continuing her studies and where does she ultimately see her career path going; she said, "I attend Georgia State University in Atlanta, Georgia. I am currently a middle and secondary education major with a concentration in language arts and social studies. I graduate in May 2020, however I plan to stay in school until I receive my doctorate degree.
"Ultimately, my career can go in multiple directions that include PG Movement, teaching, staying in Atlanta, or relocating to Bermuda. I'm in a point in my life where I only walk by faith. When it comes to my career, I decided to let go, let god, and live. I know that I will end up on the right path."
Finally, we asked if she could share some words of encouragement that she has for Bermuda's youth; specifically, for young Bermudian girls growing up in today's society. She said, "Everyone is beautiful in their own way, internal & external. No one can do you better than you, embrace your own."
To learn more about the PG Movement, you can follow on Instagram and Twitter.

Generation Next, in conjunction with Bernews, is producing a 'Youth Movement' series to spotlight our island's young people who are trailblazing paths not only here at home but across the globe with their respective talents, innovative ideas, fresh energy and vision. If you would like to recommend a young person to be featured, please contact generationnextbermuda@gmail.com. The Youth of Today, Leaders of Tomorrow, Generation Next!
Read More About