[Generation Next Youth Movement Series]
"Tea in touch with tomorrow" is the mantra adopted by NovelTea, as well as its founder and owner Kelsea Williams.
When asked to give a little background on how the modernisation of tea is the driving idea behind the company, Kelsea shared that the meaning is two-fold.
"We are a 'Tea in Touch with Tomorrow' in the sense that we do tea a little differently – in a fun, modern, accessible and diverse way – but we also aim to run the business in as sustainable a way as we can.
"All our teas are sourced from Fair Trade Estates that grow and harvest their leaves naturally. Here in Bermuda we aim to stay as far away from plastic as we can, taking small steps that make a big impact, like using paper straws and encouraging customers to bring their reusable container. We have also opted to use paper based packaging."
"NovelTea is a Loose-Leaf Tea Business that specializes in premium loose-leaf teas, teaware and accessories. NovelTea is all about bringing the classic tradition of tea into the 21st century – changing the narrative, taking tea from your grandma's house and showing people that it's a fun, flavorful and healthy every day drink you need in your life!"
"NovelTea offers a large variety of loose-leaf teas – all different flavors and types of tea. We have green teas, black teas, white teas, rooibos teas, mate teas and more. We also sell a small selection of teaware and accessories. We have all of the tools that you need to prepare your loose-leaf tea correctly, quickly and easily."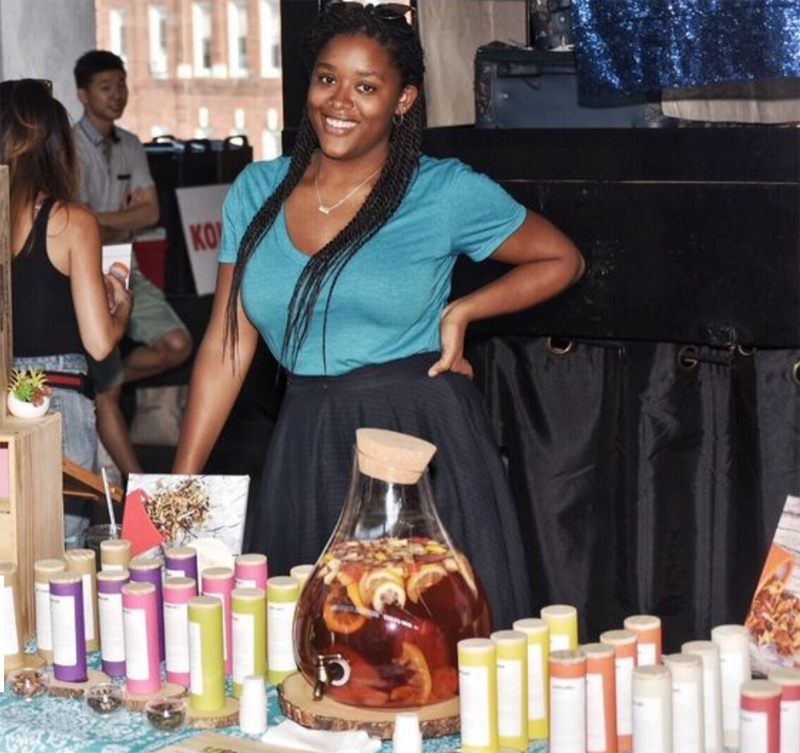 But it doesn't stop there! Maintaining the spirit of the mantra, Kelsea has a vision for tomorrow, when asked about where she would ultimately like to see NovelTea progress she said:
"In another 5 years I would love to see NovelTea with a Brick and Mortar location that people love to come to, not only to get their tea, but I would like to create a space that people enjoy, can interact with, and feel at home in."
"Ultimately, I hope to grow NovelTea to a point where we can have our own Tea Bar – a place where you can come, get your tea, hang out, socialize and discover the wonderfully diverse world of tea!"
It is no easy task to start a business, it takes a lot of drive and dedication. So we were curious what peaked Kelsea's interest in entrepreneurship and if she had any individuals who inspired her.
"My passion for tea is what really inspired me to start the business. When in university, I was exposed to the world of loose-leaf teas. I fell in love and that's really where the story begins.
"When I came back to Bermuda upon graduating, I was really missing my teas! Travelling and bulk buying my favorites just wasn't cutting it, so after a lot of research, pep-talks from friends and family members, and internal debate I decided to dive head first into developing NovelTea."
"I do not necessarily have one person that inspires me. I get a lot of inspiration from every day women that are constantly pushing themselves to do great things. I suppose my mother in that way is an inspiration to me – her drive to succeed, keep busy, and keep learning on top of being a single mother has really shown me that anything is possible," she added.
Kelsea's responsibilities don't end at NovelTea; she is also the full time Marketing Manager at A.S. Cooper. The organisation and balance it must take to juggle the responsibilities of NovelTea and marketing for one of the primary clothing stores on the island must take a certain amount of passion, so we were curious as to what her favorite parts of her position are.
She said, "My favorite part of my job as a marketing manager is getting to be creative, design and see things come to fruition and actually work. Seeing that there are actual results and a good return on investment on the projects that I develop is rewarding."
Finally, Kelsea shared her advice for other young aspiring Bermudian entrepreneurs, saying, ""Get out of your head, don't be afraid to ask questions, and you will have bad days, and times that you just want to do nothing, see no one and get lost in Netflix and that's ok. It's ok to have those days every once in a while.
"The good outweighs the bad and you get what you put in, so just keep at it. I think that, in this day in age especially, it is also important to remember that your ideas are yours. It may not be a new idea, a new way of doing something, etc., but your idea, your business, is uniquely yours and only you can start it, develop it, and succeed at it like you can."
For more information on NovelTea, please visit their website www.noveltea.co or their Instagram page @novelteabda.

Generation Next, in conjunction with Bernews, is producing a 'Youth Movement' series to spotlight our island's young people who are trailblazing paths not only here at home but across the globe with their respective talents, innovative ideas, fresh energy and vision. If you would like to recommend a young person to be featured, please contact generationnextbermuda@gmail.com. The Youth of Today, Leaders of Tomorrow, Generation Next!
Read More About