Bermuda's Flora Duffy and Norwegian triathlete Casper Stornes will defend their titles against a strong field of elite athletes when the ITU World Triathlon Series [WTS] returns to Bermuda for its second year on April 27th.
The official start list for the elite athletes is now published and shows a strong contingent of the worlds' greatest in the sport.
Duffy and Stornes both stole the hearts of fans at the crowded finish line in last year's MS Amlin World Triathlon, the first time Bermuda had hosted the event.
Nearly 500 elite and age group athletes are booked to race in Bermuda next month and the Bermuda Triathlon Association is confident that number will increase before the April 15th registration deadline.
Steven Petty, the association's president, has urged locals not to leave it until the last minute if they want to be part of what is certain to be a magical weekend.
"If you're thinking of racing, just register," Mr Petty said. "It's going to be a great weekend and if you do it now, it will certainly help with your training. Being committed definitely focuses the mind for an event like this." Registration is online at tribermuda.com/enter_now
Mr Petty explained that people who want to do the Team Relay and can't get a team together can get help from this year's organisers. He said, "If you are a swimmer, cyclist or runner wanting to make up a team or you need an extra team mate, email info@tribermuda.com and you will be matched up with a new Tri-mate! It's easy to be a part of the race action."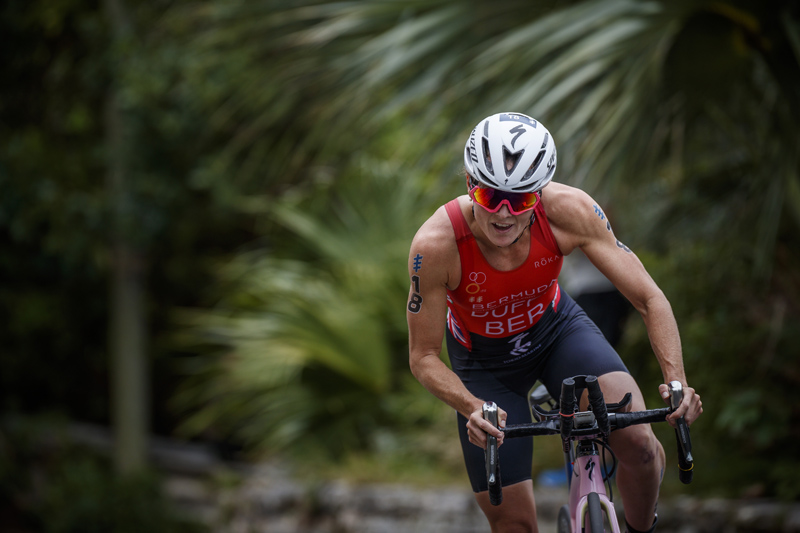 In 2018's memorable event, Bermuda's own world champion Flora Duffy stormed to a convincing win with a lead of almost two minutes and Stornes meanwhile, led the way on a historic day for Norwegian triathlon as the Scandinavian nation swept up first, second and third place on the podium. It was the first time a country has claimed all top three places at a WTS event. Kristian Blummenfelt and Iden Gustav who finished second and third in that race are also on the start list for Bermuda next month.
Stornes' dominant showing on the bike in 2018 makes him a leading contender on the challenging Hamilton course which includes riding up Corkscrew Hill, but the trio face some tough competition in the men's race against the likes of world number one, Spain's Mario Mola, Spain's other top contenders Fernando Alarza who finished third in the season-opener in Abu Dhabi this month and Javier Gomez Noya making a comeback to ITU Triathlon. Britain's Jonathan Brownlee and Henri Schoeman of South Africa are also the big names of the men's elite field.
Mola was a surprising fourth in Bermuda last year, finishing a full minute behind Stornes, but since then has cemented his place as the best triathlete in the world, winning the World Championship for the third successive year, matching fellow Spaniard Javier Gomez in achieving the remarkable hattrick. Typically, he began this season as he finished last year, claiming victory in the first race in Abu Dhabi.
The rest of the field is equally impressive, with Brownlee, a two-time Olympic medal winner and the sole male British athlete in the start list, ending last year well on the back of a silver medal performance at the Lausanne World Cup. Like Brownlee, Schoeman is no stranger to success, adding the gold medal at last year's Commonwealth Games to a collection that already included an Olympic bronze in Rio de Janeiro in 2016.
Flora Duffy, Commonwealth Games gold medallist will again race before the thousands of fans that lined the streets to roar her to victory in 2018, returning for her first competitive race since the injury that prematurely ended her season last year.
The likes of British pair Jessica Learmonth and Non Stanford, Australia's Ashleigh Gentle, and Taylor Knibb of the United States, will all be challenging for a spot on the podium. Learmonth is considered one of the fastest swimmers on the ITU circuit and will enjoy the relatively warm waters of Hamilton Harbour.
However, the two biggest challengers that Duffy faces may well come from Katie Zaferes and Vicky Holland, who finished second and third last time out, and have been battling for supremacy in the women's elite field ever since.
Zaferes has built herself quite a reputation on the circuit, finishing fifth in the world in 2015, and improving one place every year ever since. Most recently she finished second in 2018 after a nailbiting battle with Holland that went right down to the wire at the Gold Coast Grand Final.
The MS Amlin World Triathlon 2019 on April 27th, 2019 is the second of three annual World Series Triathlon events that Bermuda will host; in 2021 the island will be home to the ITU Grand Final and Age Group World Championships

Read More About