[Updated] The launch of the Public Health Week is being held today [April 8] with opening remarks from Minister of Health Kim Wilson. We will have additional coverage later on and in the meantime the live video is below.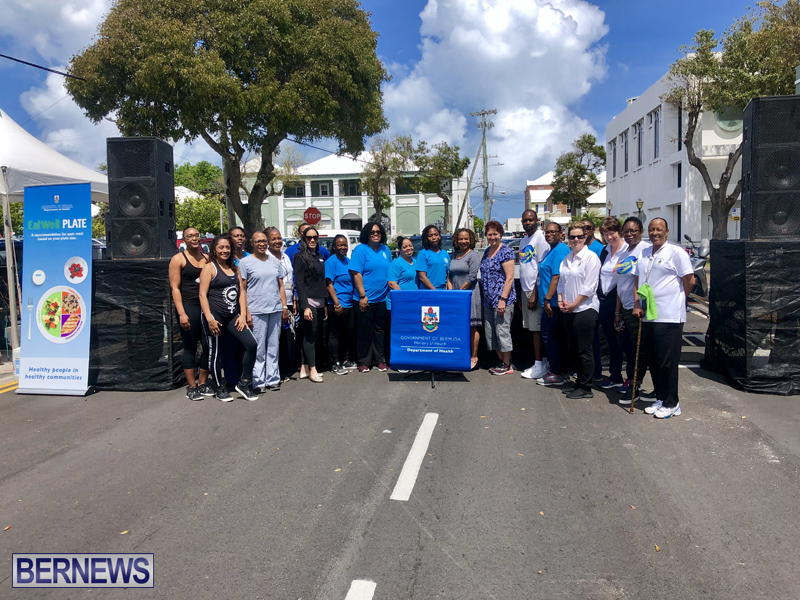 Update: The live broadcast has concluded and the 5-minute replay is below
Update 3.18pm: Minister Wilson said, "As we begin this week's observance of Public Health Week, I would like to take the opportunity to recognize the many successful public health programmes that we have experience over the years, such as the control of infectious diseases, safer and healthier foods, and the reduction in smoking prevalence. These are just a few of our outstanding public health programmes administered through the Department of Health.
"Like many modern societies, Bermuda has to respond to the growing trend of non-communicable diseases such as heart disease, stroke, diabetes and cancer. The Ministry of Health remains committed to addressing these diseases and achieving better health outcomes for our community. However, we can only achieve real success in reducing the prevalence of these conditions with the help of the community.
"The theme of Public Health Week is 'Commit to Change: Small changes, big results'. Commit to Change focuses on the following areas: Choose water, Exercise daily and Eat more vegetables. These are small changes but tangible steps that individuals can make to prevent non-communicable diseases [NCDs] like diabetes, cancer, and cardiovascular diseases.
"NCDs continue to be the leading causes of death and are strongly related to lifestyle factors such as poor diet, physical inactivity and smoking. It is important to know what you can do to prevent or reduce your risk of developing chronic diseases and protect your mental wellbeing.
"This year we have included a focus on balance mental wellbeing. There are many people who are affected by mental and neurological disorders [MNDs] – including depression, anxiety and bipolar disorders, schizophrenia and dementia. Last year, the World Health Organization, acknowledged that mental and neurological disorders can be a precursor to or a consequence of NCDs. They share many of the same determinants and consequences, and frequently occur in the same person. Risk factors for NCDs such as sedentary behaviour, unhealthy diets and harmful use of alcohol are also risk factors for mental and neurological disorders.
"Among our working population, we must emphasize a life/work balance that reduces the stress and promotes healthy options.
"Positive lifestyle choices begin in our young people by encouraging them to eat healthy foods, exercise regularly and pursue activities that promote healthy lives.
"While we have made considerable progress in public health, further work is required to achieve the better health outcomes for all. This is a priority for the Ministry of Health and it requires all stakeholders to have the courage to make these transformational reforms.
"When it comes to health, we need to do things very differently if we want to get different results. The time for change is now. Join us this week, and throughout the year, as we work together to build a healthier community.
"I am very pleased to open today's event. Please take the time to visit each area – there are various screenings, activities and informational booths on hand. I also invite you to attend the other events planned for this week:
"A Lunch and Learn entitled Mental Health in the Workplace, tomorrow at Bermuda Society for Arts. Farmer's Market, Wednesday, 10th April featuring local farmers with produce for sale, food demos, and food vendors at City Hall starting at 10 a.m. Thank you to the Ministry team who organized the events and thank you to our key partners who are participating in making today a success.
"Special thanks to all of you who have come out today. You are the community that we want to see become healthier and live longer."

Read More About