The seventh compilation of Dr. Edward Harris' Heritage Matters columns has now been published by the National Museum of Bermuda Press.
The column ran weekly for ten years in local newspapers, bringing Dr. Harris's passion for local heritage into almost every home in Bermuda.
Heritage Matters 7 is a selection of essays exploring, illuminating and promoting Bermuda's history and culture, from Bermuda's bumpy old roads, to a fugitive fighter pilot, and from longtail condominiums to a Bermudian beauty gracing London's National Portrait Gallery.
Meet the cartoon 'busybody' Bermudians, the busty figureheads 'Yes' and 'No', and Lord Kitchener's champion chickens; and learn about Bermuda's 'Royal Albert Hall', a murderous warclub, Pembroke's long-lost waterfront, the picture that's worth 1,000 words and, of course, a whole lot more.
"I hope everyone, especially students, will enjoy this latest compilation of some of the 450 Heritage Matters articles I did for the newspaper over a ten-year period. There are three more booklets to come, as the entire collection will be republished in the series of ten booklets: sponsors are needed for the last two", Dr. Harris said.
This volume of Heritage Matters has been generously sponsored by the American Friends of the National Museum of Bermuda and Mrs. Jane Ashton, in honour of her husband Philip Taylor Ashton, a lifelong friend of Bermuda and avid collector of its heritage.
Heritage Matters Vol. 7 and Volumes 1-6 are available at the Museum and bookstores Island-wide for $10. Full sets of Heritage Matters at the special price of $50 are available at the Museum only, contact info@nmb.bm for more information.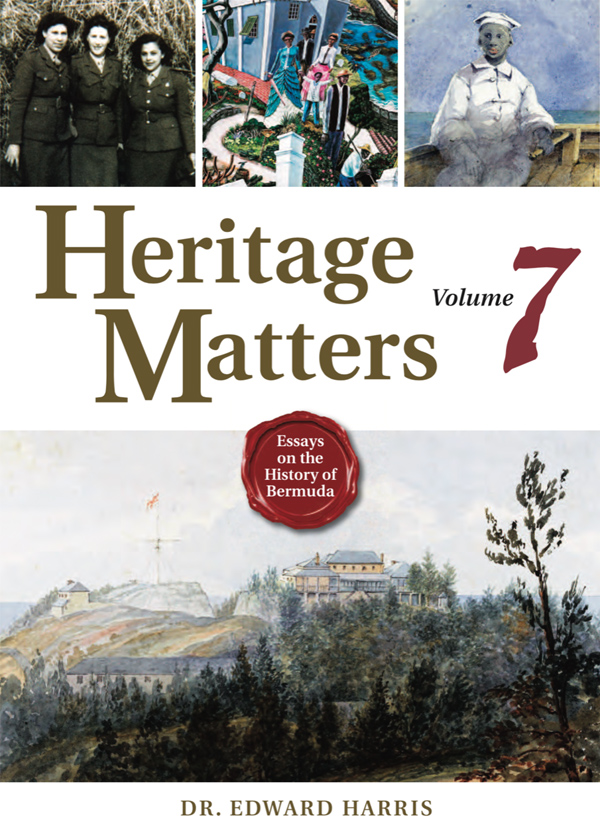 Read More About