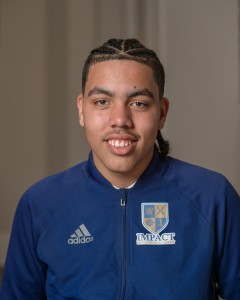 In the first in a series of profiles of the young men competing in this year's Alpha Beautillion, we spotlight Antonio James Carvelho from the Impact Mentoring Academy.
Antonio James Carvelho was born August 14, 2000 to Kim Armstrong and Michael Carvelho on the island of Bermuda. Antonio also has an older sister, Latonae Smith, and a younger brother, Adriano Esdaille.
Antonio began his education at Bermuda Montessori in 2004 before moving to Mount Saint Agnes. From 2014 – 2016, Antonio attended school in Spain, while playing football for Barcelona. In 2016, Antonio began his journey at Impact Mentoring Academy [IMA].
Antonio is coachable, focused, respectful, conscious, athletic, humble, and exhibits strong leadership skills. He is currently the only Level 3 [highest level available] leader at IMA. He enjoys playing football, spending time with family, and playing video games.
When Antonio first came to IMA, he was failing all his 9th grade classes, with the exception of physical education. However, with hard work and determination he will be graduating in June.
Antonio believes that IMA has helped him so much since he has been here and loving every minute of it. Some of Antonio's most memorable experiences at IMA include the countless talks and meetings about the important issues facing young black men in this world. Often Mr.Crumpler would say "I wouldn't be telling you this if I didn't love you".
After graduating from high school, Antonio plans to study Sports Management and Accounting .
The quote with the greatest significance to Antonio is IMA's daily affirmation, "We are men of honor. We are men of vision. We are men of integrity. We are men of courage. Excellence is our goal. Success is our companion. Bermuda is our domain. The world is our oyster, and our contribution to it will certainly be made. My life has deep significance. I have arrived on schedule for my assignments. The world a better place because of my presence in it. With God as my help, I am a man of impact".

The Alpha Beautillion show is the culmination of a 6 month program. The end of this program consists of a ceremony where top high school male students demonstrate their oratorical ability, talent and community service activities as they compete for scholarships. A bursary prize of $5,000 is awarded to the top male while smaller monetary awards are given to all other participants.
The 18th annual Alpha Beautillion will be held on Sunday June 2nd at the Ruth Seaton James Auditorium, with regular tickets costing $25, patron tickets costing $50, and VIP costing $75 [includes canapes and refreshments]
Tickets are available at bdatix.bm. For all our coverage of the Alpha Beautillion click here.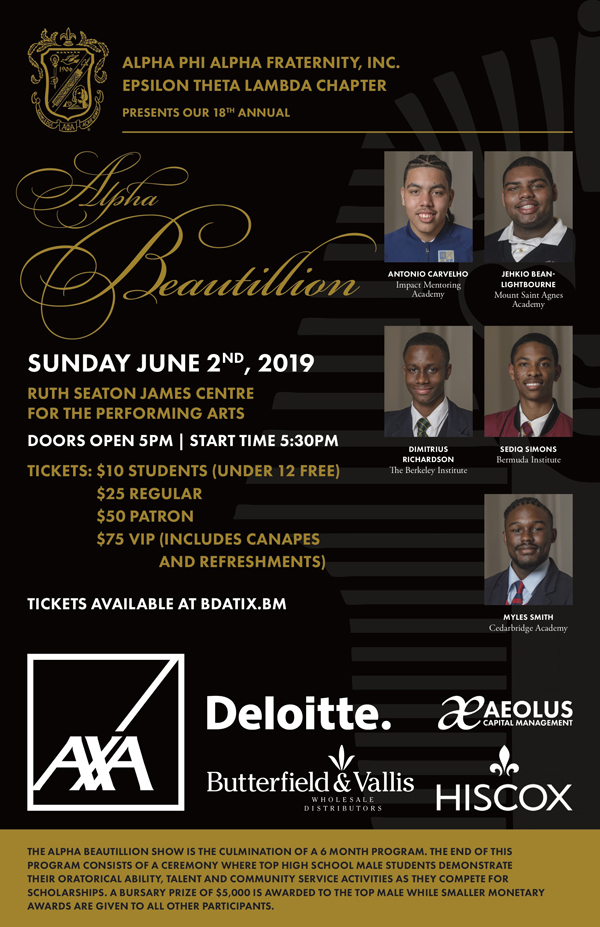 Read More About