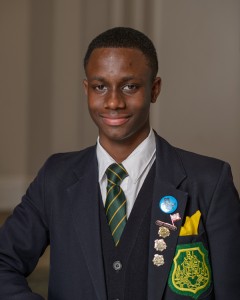 In the second in a series of profiles of the young men competing in this year's Alpha Beautillion, we spotlight Dimitrius Richardson from the Berkeley Institute.
Dimitrius was born April 4th, 2001 to Claudelle Richardson and Darius Richardson. He came into this world not breathing, being rushed off to the neonatal ICU was his entry into the world.
He fought through it and has given life the same fight to this date. Dimitrius has four siblings: two sisters – Chauntae' Whitter and Chelsea Richardson, and two brothers – Canterbury and Daniel Richardson. The quote, "The world is but a canvas to our imagination" drives Dimitrius to show the world what he has to offer.
Dimitrius represents The Berkeley Institute as a Peer Mediator, and a YouthNet Mentor. He meets with his YouthNet Mentee weekly to give him encouragement and to, just listen.
During his S2, S3 & S4 years at The Berkeley Institute, Dimitrius extended his time in the carpentry shop assisting, building, and designing various projects. He also draws furniture designs for the Berkeley clients. In March 2019, Dimitrius was nominated by The Berkeley Institute for The Most Outstanding Teen Awards in the Vocational/Technical Skills category.
Dimitrius has always been motivated to improve and looks to the future in anything he does. He has received Principal's List with the top tenth highest GPA in S4 and Honours & High Honours throughout his years at The Berkeley Institute. In his S1 & S3, he was awarded 'The Most Improved Student' award.
Dimitrius aspires to become an Architect. He was fortunate to participate in the The Ministry of Public Works summer internship. This internship opened his eyes to the world of Architecture, and his future plans are to further his studies in Architecture in the United Kingdom in the September of 2019. Additionally, he also aims to gain experience in construction.
Giving back has been a big part of Dimitrius' life and he gives back through coaching football in a summer football camp through his community football club PHC, community service at Meals on Wheels, countless hours with the Port Royal Golf grounds team, End-To-End, along with other community service endeavors. Dimitrius has received a gold community service award for his Community Service Hours. Now the Beautillion has opened his eyes to more ways to give back through volunteering at the Matilda Smith Williams Rest home, time he enjoys immensely and looks forward to seeing the Residents during each visit dancing with them, reading and helping in any way that he can.
Playing football for PHC since the age of 3 has contributed much to his success. Moreover, he has taken strides in becoming a better player on and off the pitch allowing him to play with PHC's Senior Men's team. Also Dimitrius plays the drums, he has played in PHC's Drum Core and Showtime United. At Showtime he was the youngest snare drummer to play at that drumline.
As Dimitrius moves on to the next phase of his life he quotes, "Each player has a path to the goal in life."

The Alpha Beautillion show is the culmination of a 6 month program. The end of this program consists of a ceremony where top high school male students demonstrate their oratorical ability, talent and community service activities as they compete for scholarships. A bursary prize of $5,000 is awarded to the top male while smaller monetary awards are given to all other participants.
The 18th annual Alpha Beautillion will be held on Sunday June 2nd at the Ruth Seaton James Auditorium, with regular tickets costing $25, patron tickets costing $50, and VIP costing $75 [includes canapes and refreshments].
Tickets are available at bdatix.bm. For all our coverage of the Alpha Beautillion click here.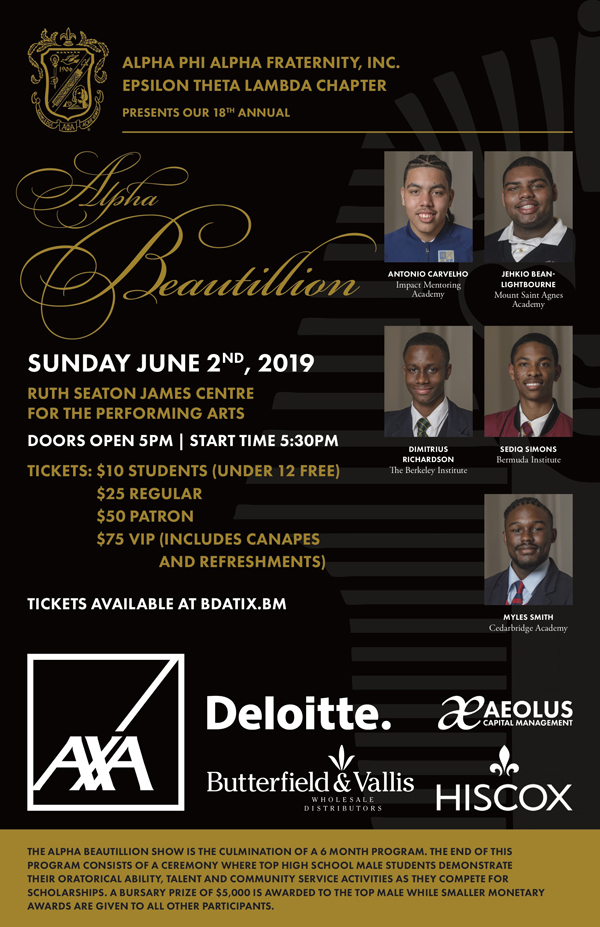 Read More About