[Written by Vejay Steede]
The staff and students of the St. George's Preparatory School [SGPS] have started a wonderful new tradition to commemorate Bermuda Day. Thursday morning marked the inaugural SGPS Heritage Day Triathlon, an event designed to pay tribute to the popular half-marathon and bike race staged each 24th of May.
The initial event was open to primary 4, 5, and 6 students of the SGPS only, but the idea is to extend an invitation to other schools in the coming years. Organizer Tamara Sukdeo is hoping that this event is embraced by the St. George's community and will become an integral part of our annual Bermuda Day preparations.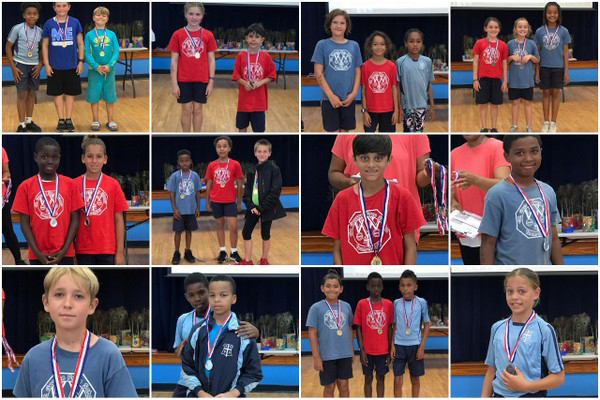 The route for the triathlon consisted of a 50 meter swim, a 2 kilometer bike ride, and a 1 kilometer run, which are outlined here:
The Route for this event is as follows:
50m swim across Ordnance Island Channel
Transition to the bike
Ride along Water Street to Penno's Drive
Up the hill outside the World Heritage Center
Down the one way hill – Water Street
Ride back along Water Street to King's Square
Cross the bridge to Ordnance Island
Ride around the round-about
Back across the bridge to Water Street
Complete this circuit twice on the bike
Run this same circuit once
All athletes will transition from one event to the next or one team member to the next in the transition area. Athletes will not be permitted to leave the transition area until their shoes are tied and helmets fastened or caps on. Athletes must follow all safety rules, paying particular attention to the rules of the transition area.
On the day, the students represented the school exceedingly well, and bystanders were delighted with the entertainment value presented. The entire initiative was an unadulterated success, with students, parents, school staff, and spectators all enjoying the race from start to finish.
The event was fully supported by the Corporation of St. George's, the Bermuda Police Service, and the St. John's Ambulance EMTs.
Results:
P4 Individual
2nd Zachariah Mahklouf
1st Isabella Zeigler
P4 Team
2nd Oliver Roberts-Pitcher, Josephine Cosham, Daila Brangman
1st Jacob Stickland, Dylan Vonhassel, Caleb Johnson
P5 Individual
4th Rogan Cabral
3rd William Butterworth
2nd Samir Askia
1st Etienne Strong
P5 team
4th Dezirae Darrell, Mahlani Ramotar, Maya Fitz-Trott
3rd Paige Rodday, Indira Coleman, Kyla White
2nd Riley Paynter, Andrew Caines, Alexis Harvey
1st Jordan Faries, Kaiyuri Albouy, Mayan McKweon-Alexander
P6 Individual
3rd Joy Pitcher
2nd Eva Tuzo
1st Demiyaz Trott
P6 Team
3rd Isabell Franklin, Jelai Carlington, Xyior Basden
2nd Marley Dubois and Shia Harford
1st Tristan Burgess, Amari Smith, Jorai Laurenceo

Read More About