The Department of Energy announced the official launch of the LED Exchange Programme, effective today [May 1].
A Government spokesperson said, "Beginning today and continuing as long as supplies last, members of the public are encouraged to bring one incandescent light bulb to participating retailers in exchange for one energy-efficient LED bulb, free of charge.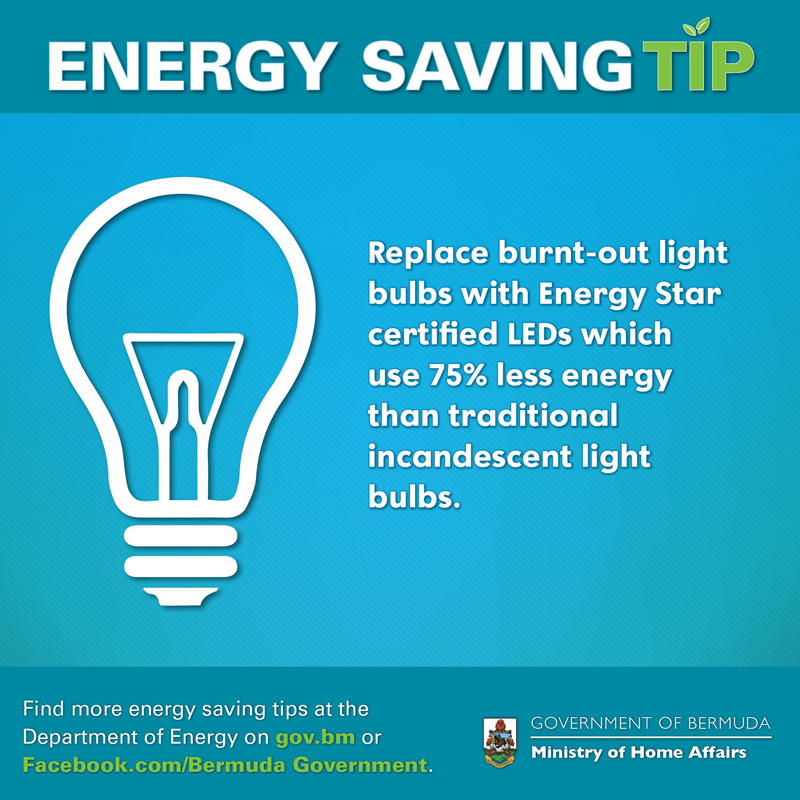 "After conducting research with local retailers, the Department of Energy found that a standard 60-Watt A19 bulb is the most popular choice among customers.
"A 60-Watt bulb generates approximately $46 per year if used for five hours each day. An LED light bulb equivalent will only generate around $6.90 per year. Switching to an LED bulb generates a savings of about 85% in energy usage annually.
"The Department of Energy and the Ministry of Home Affairs hopes that all residents will take advantage of the LED Exchange Programme to contribute to a greener, more energy-efficient Bermuda.
"Please see a list of participating vendors below:
ATS, Lovers Lane, Paget
Baptiste Building Supplies, Kyber Pass, Warwick
BE Solar, St. John's Road, Pembroke
ESC Limited, Mills Creek, Pembroke
Gorhams, St. John's Road, Pembroke
Hamilton Market Place, Church Street, Hamilton
Herron Bay Market Place, Herron Bay, Southampton
Island Electric, South Side, St. David's
Lindos' Family Foods, Middle Road, Warwick
Lindo's Market, Brighton Hill, Devonshire
Shelly Bay Market Place, North Shore, Hamilton Parish
Telford Electric, Main Road, Sandys
The Greenhouse Bermuda, Wellbottom, Southampton
The Lighthouse, Happy Valley Road, Pembroke"
Read More About
Category: All, News, technology