All public schools and Government offices will be open on Monday, and buses, ferries, trash collection, airport will also operate tomorrow as normal the Government said today, adding that people should "remain in a hurricane readiness mode" as the island is expected to "experience Tropical Force winds on Tuesday evening."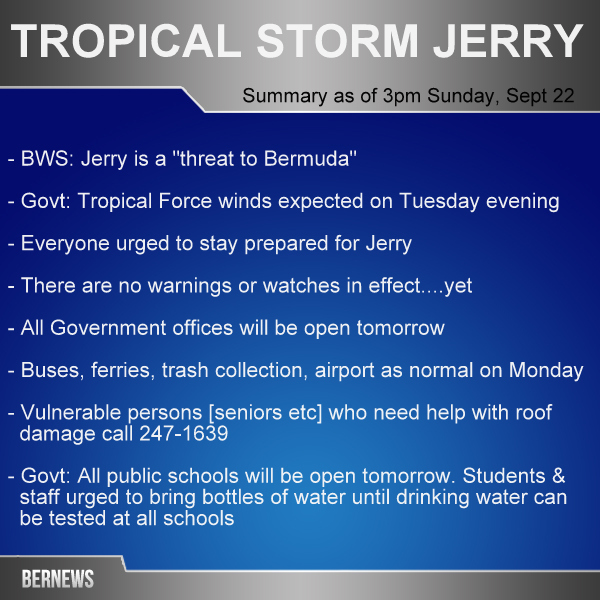 This was from Minister of National Security Wayne Caines, who said, "Following a meeting this morning of the Emergency Measures Organisation we are here to provide the latest update on Tropical Storm Jerry.
"We have been advised by the Bermuda Weather Service that Bermuda is expected to experience Tropical Force winds on Tuesday evening. I will let James Dodgson, the Director of the Bermuda Weather Service discuss those details.
"As I stressed yesterday, we strongly encourage everyone to remain in a hurricane readiness mode.
"Today's update is for Monday only. The EMO will meet again tomorrow morning at 10 am to evaluate Tropical Storm Jerry and we will provide a full update during our Monday press conference at 12:30 as well as a 1:30 update on the Emergency Broadcast Station – 100.1 FM.
All public schools will be open tomorrow. However, we are encouraging all students and staff to bring at least 2, 15-ounce bottles of water – until the drinking water can be tested at all schools.
All buses are running as normal and will run as scheduled tomorrow.
All Government offices will be open for business tomorrow.
Currently, Belco has just over 3000 customers without power – 8%, and anticipate all power to be restored by Monday.
Thanks to the major efforts being made by our combined crews, we have made good progress on road clearing. However, please be mindful of roadside debris and take caution while driving on our roads, as clearing work continues.
The ferries are running as normal and will run as normal on Monday.
KEMH is operating as normal and is preparing for the next storm. Lamb Foggo Urgent Care Centre in St David's is open this weekend from 12noon – 12midnight. Weekday hours are 4pm – until 12 midnight.
The hospital is still seeing patients coming in with clean up related injuries – please take all necessary precautions while restoring your property.
And as I said yesterday – pay close attention to the food in your fridge. Some people have been without power for many days. Your food may not have been properly preserved and I strongly suggest that you throw it out as it has probably gone bad.
Trash collection will be as normal on Monday.
The Marsh Folly facility is open for collection today until 4:00pm. Please take trees/foliage to the Marsh Folly Facility – dumping fees have been waived.
Lifeguards are on duty today at Horseshoe Bay until 6 pm.
The L F Wade International Airport will operate today and tomorrow as normal.
For those vulnerable persons who may require help with damage to your roof – i.e. our seniors, people with mobility challenges or who are ill etc. please call 247-1639.
"So essentially, Monday it will be business as usual.
"As I said earlier, the EMO will meet again tomorrow morning at 10 am. We will assess Tropical Storm Jerry, make all necessary decisions about what will happen on Tuesday, and we will update the public in our 12:30 press conference and at 1:30 pm on the Emergency Broadcast Station, 100.1 FM.
"If you know anyone who does not have access to online media sites – specifically our seniors – please encourage them to listen 100.1 FM at 1:30 pm today and again at 1:30 pm tomorrow so that they can stay abreast of the storm updates.
"You can easily stay informed about the latest information and updates by downloading and installing the Bermuda Government Tree Frog app, available for free from the App Store and Google Play store. You can also visit gov.bm and the Government of Bermuda Facebook, Twitter and Instagram accounts for full details. Thank you."
You can view our live updates on Hurricane Humberto and Hurricane Jerry here, all our coverage of Hurricane Humberto here, our coverage of Hurricane Jerry here, and all our coverage of the 2019 Hurricane Season here.

Read More About