A team of nine employees from Hiscox Re and ILS from London and Bermuda recently covered 200 miles in 24 hours as participants in New Hampshire's Ragnar Reach the Beach Relay in support of Action on Alzheimer's & Dementia Bermuda [AAD], raising more than $7,000.
A spokesperson said, "The employees also held an in-house raffle across the Hiscox offices in Bermuda and London, with matching by Hiscox for all funds raised by their employees."
"This is an amazing group of people who work for a very supportive company" said Elizabeth Stewart, AAD President and Founder, who joined the group to compete in the event.
"The weekend was full of comradeship and connection and I was honored to be a part of it."
Jonas Muir Wood, Deondre Trott, Mike Schindel, Phil Mace; Second row: Byron Rencken, Maeve Dillon, Gail Maitland, Julie Mullowney [volunteer]; Bottom row: Sophia Mealy, Elizabeth Stewart [AAD], and Laura Pemberton: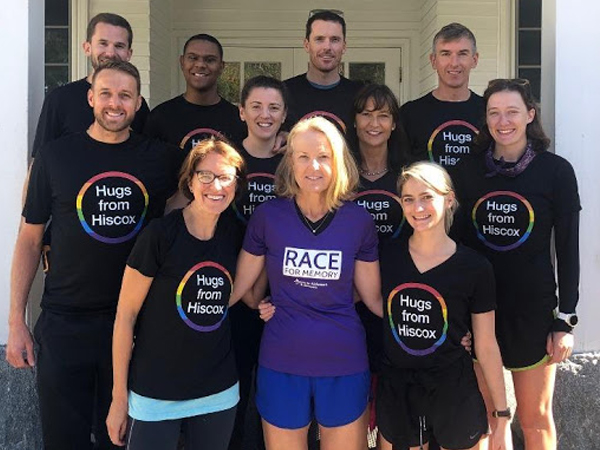 The spokesperson said, "Ragnar is not just a relay race; it's an overnight adventure, team-building activity and community celebration rolled into one. The team started in Bretton Woods, New Hampshire, and ran along through lakes, over rolling hills, through covered bridges and across scenic expanses to reach the finish—and achieve their goal.
"As the east coast's oldest running relay, the race boasts some of the best community support, with decorated baton exchanges, volunteers in full costume, and even neighbourhood block parties. Over the 24-hour quest, the team pushed themselves out of their comfort zone physically."
"It was a tough race," said Laura Pemberton of Hiscox. "We slept overnight in a van, for example, and devoured copious amounts of peanut-butter bagels! It truly was the ultimate team-building experience. We finished 200 miles later at Hampton Beach, New Hampshire."
The spokesperson said, "The team managed to raise a whopping $7,108 – funds that will go towards raising awareness about Alzheimer's disease in Bermuda and providing resources and support to individuals and families who are living with dementia."

Read More About