The Bermuda Diabetes Association is getting set to present a public meeting on Wednesday, February 26 at BUEI from 6.00pm to 8.00pm, with physicians Dr. Robert Ratner and Dr. Sue Kirkman presenting the latest diabetes guidelines.
A spokesperson said, "On Wednesday, February 26, the Bermuda Diabetes Association is privileged to present the latest diabetes guidelines.
"Two eminent physicians, Dr Robert Ratner and Dr Sue Kirkman will be presenting these guidelines to the public at BUEI from 6.00pm to 8.00pm. The importance of these guidelines is that they emphasise the importance of the patient in decision making about treatment and management.
"Diabetes is serious and involves a lot of choices including the right foods, amount of physical exercise and appropriate medication. It is no wonder that patients are confused about what to do. So many diets, whether to be vegan or to eat only protein, whether to walk or jog, swim or cycle. The overwhelming amount of advertising as to which medicine to take for what.
"Diabetes guidelines are the gold standard and help to steer both patients and physicians in the right direction.
"Bermuda is extremely fortunate in being able to offer such an evening to the public. This has only been possible through a generous grant from Renaissance Re.
"People with or at risk of diabetes need to have the relevant information and guidance to assist them in making the best decisions. It is hoped that members of the public will take advantage of this important meeting and learn from the experts.
"There will be refreshments available before the talk, as well as blood glucose testing."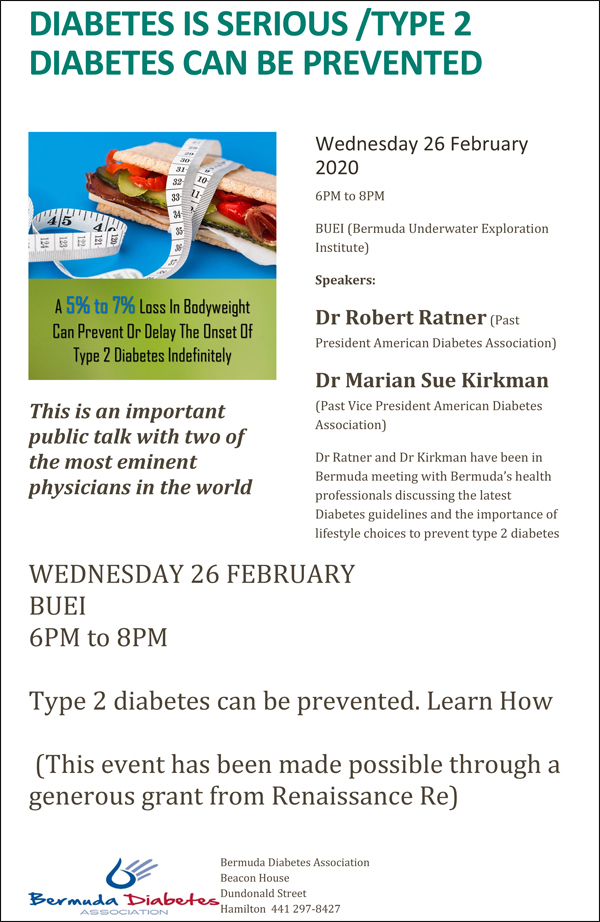 Read More About
Category: All