Five dynamic presentations will be showcased at the PechaKucha Night at 7.00pm this evening [Feb 20], with the event set to feature talks by Natalie Lightbourne, Najib Chentouf, Matthew Arnold, Ryan Sommerville and Faraz Pourreza-Jorshari.
A spokesperson said, "Success. Travel. Sex. Meditation. National Dress. Five dynamic, diverse visual 'chit-chat' presentations on these topics are on offer for your delight at Bermuda PechaKucha Night # 29 at Blue Waters Anglers Club at 7 p.m. on Thursday 20 – 02 – 2020, featuring short, mighty talks by Natalie Lightbourne, Najib Chentouf, Matthew Arnold, Ryan Sommerville, and Faraz Pourreza-Jorshari.
"From Harare to Hanoi, Harrisburg to Hanover, the PechaKucha Organisation, started in 2003 in Japan by two architects, has spread to over 1200 cities in 137 countries worldwide.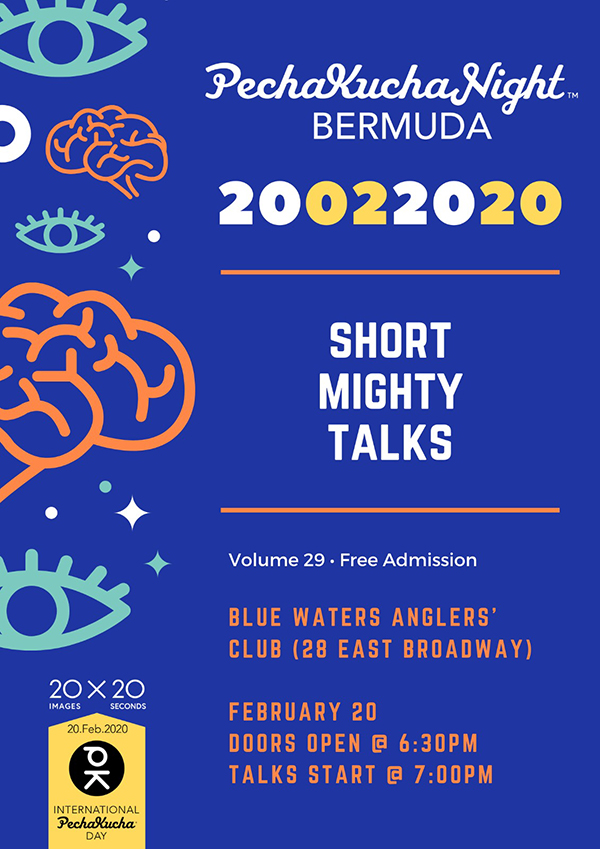 "Today, Bermuda joins International PechaKucha Day #IPK2020 to help set a new record for the number of people worldwide giving PechaKucha Presentations all on the same day!
"Be prepared to marvel at the varied presentations, as the evening's energy spills out in this fun-filled event. Learn about the physical and spiritual benefits of Chi Gung [Qigong], a 6000-year-old Chinese practice, from Faraz Pourreza. Dentist and documentary photographer from London, martial artist Faraz will impress the audience with his thoughts on mindfulness and meditation.
"Lying immediately north of the mighty Zambezi River, Zambia forms the colourful backdrop for Natalie Lightbourne's exciting delivery on world travel and her trip to the country that boasts over 800 species of birds, and the majestic Victoria Falls.
"Veteran PechaKucha presenter Matthew Arnold will amuse, amaze and inform on the uplifting topic: 'Things You Can…….. and Other Things You Probably Shouldn't….' Combining a sense of adventure with a quirky approach to his observations on life's dress code, loving Grandfather 'Mattie' will lift your spirits with this presentation.
"'Centering our pleasure'. How do we enhance Bermuda's sexual health, sexual education, and sexual practices? Patriotic Bermudian Najib Chentouf will once again give an exciting PechaKucha talk. He is a father, husband, event producer, entrepreneur, and charity founder that loves to DJ and bring people together.
"We all want to be successful. In the presentation 'Lifestyle Design', Ryan Somerville will discuss painting a vision of what you want that encompasses all aspects of your life. Ryan is an executive coach and career consultant who works with organizations and individuals to align values, strengths, and interests, weaving meaning and purpose into daily activities to enable people to thrive both personally and professionally.
"The format for PechaKucha Presentations is simple; 20×20. That means 400 seconds of fast-flowing optical enjoyment, coinciding with 6 mins 40 seconds of 'chit-chat' to complement the visuals, as 20 slides flash on a screen behind the presenter for 20 seconds each.
"Especially exciting for Thursday's event is the date 20.02.2020, as it fits perfectly with the '20×20′ tag, and our participation in the global movement on International PechaKucha Day #ipk2020 with more than 60 other cities worldwide.
"This stimulating event is held at Blue Waters Anglers Club, 28 East Broadway, Hamilton. Thursday, 20th February, 2020. Doors open at 6.30 p.m. for the talks to begin at 7:00 p.m.
"Admission is free, but donations are welcomed to help keep the vibes going. Bring your reusable cups to help reduce plastic waste + pollution. Poster credit and big thanks to Louis Galipeau for our Volume 29 poster!
"For more information visit our website, Twitter: @PechaKuchaBDA, Instagram: @pechakuchabermuda, Email: pechakuchabermuda@gmail.com"
Read More About
Category: All, Entertainment