It was a blustery opening day at the Dark 'n Stormy World Par 3 Championship, but that didn't stop Americans Joe Horowitz and Eric Dugas from carding stellar 4-under-par 50's to share the lead heading into the final round on Saturday.
Horowitz, who was the only player to have a bogey-free round, credited his putter for his early success.
"I putted really well," Horowitz said. "Like everybody, I did leave six or seven putts that could have gone in, but overall it was a great day."
Horowitz shares the lead with fellow American Eric Dugas, who managed to find five birdies and one bogey en route to shooting his 50.
Dugas, who flew in from Hawaii to play in the championship, was no stranger to today's weather conditions.
Joe Horowitz [left] and Eric Dugas [right] share the lead at -4 after round one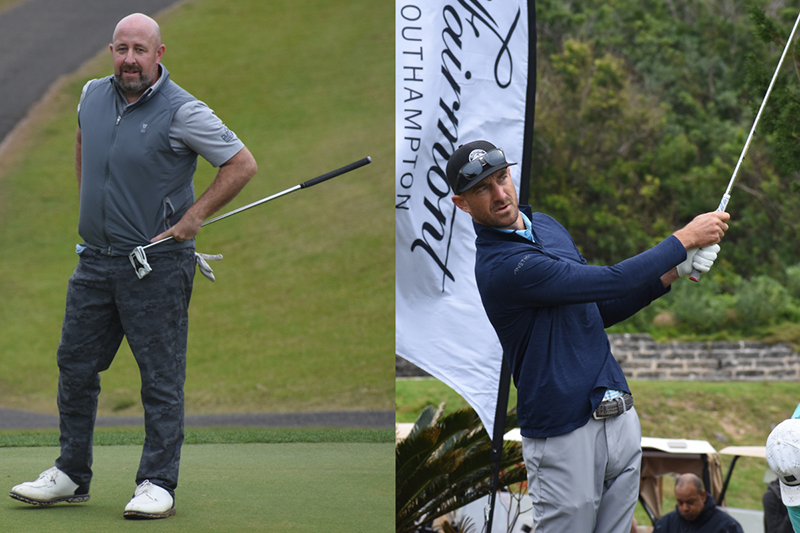 "I kinda knew with the forecast—like everybody else—you just go out and hit the shot, chase it, and hit it again," he said. "It's about trying to keep it where you can play from."
Like Horowitz, Dugas thanked the flat stick for putting him in contention on Saturday.
"I made a few putts today that I wouldn't say were needed, but helped," Dugas admitted.
Dugas and Horowitz will be joined by Canadian Dustin Risdon in the final group, who sits alone in third place after firing a 2-under-par 52.
Risdon punched his ticket to the Dark 'n Stormy World Par 3 Championship by way of winning the Canadian Par 3 Championship last summer, which was held at the Fairmont Banff Springs Golf Course in Banff, Alta.
"I think it's pretty cool that there's a PGA TOUR exemption up for grabs after all this," said Risdon, who plans to keep things simple heading into tomorrow's round.
Mini Tour player Dalton Reese finds himself one back of Risdon in fourth place at 1-under-par. LPGA's Kendall Dye and American Justin Regier round out the top five at even-par.
In addition to professionals, the event sees 66 amateur golfers competing for titles in the amateur, women's and senior amateur divisions.
Bermuda's Jevon Roberts leads the amateur division by five shots after shooting one-over-par 55, while Tracy Burgess and Gary Brangman lead the women's and senior amateur divisions, respectively.
The Dark 'n Stormy World Par 3 Championship, held at the Turtle Hill Golf Club, is a 36-hole championship featuring 50 professionals and 66 amateurs from five different countries, with both men and women playing together and competing for the same overall prize.
For the first time in the event's history, the champion will gain an exemption into the PGA TOUR's Bermuda Championship at Port Royal Golf Course, held Oct. 26 to Nov. 1.
The winner of the professional division will also receive the first-place prize of $10,000 [USD].
Fifteen players are within seven shots or less of the leaders, promising for an exciting final round of play on Saturday.
Admittance to the Dark 'n Stormy World Par 3 Championship is free and spectators and media are encouraged to attend.
The view the leaderboard, click here.
The view final-round pairings and tee times, click here.

Read More About