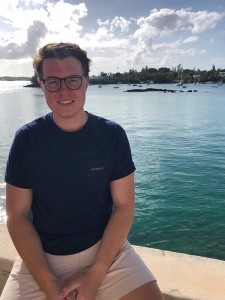 Deloitte announced that the 2020 Deloitte Scholarship has been awarded to Evan Higgins.
The scholarship award offers up to $20,000 per year for a maximum of 3 years and is available to Bermudians pursuing an undergraduate degree with an interest in accounting, actuarial, financial advisory, risk advisory or other business related studies.
"Evan was selected from an impressive group of Bermudian scholarship candidates. He was chosen by the committee due to his remarkable academic achievements and his clear purpose to make an impact that matters in his community, amongst his peers and in his future career," a spokesperson said.
"The successful candidate is a third-year student at the University of Waterloo and studies Environment and Business with a minor in Economics.
"This challenging program is coupled with Co-op experience, allowing him to gain valuable exposure to career opportunities while completing his undergraduate degree. Currently, his Co-op placement is with Deloitte's Financial Advisory practice. He has previously worked at the Royal Bank of Canada's [RBC] Portfolio Management team in Toronto and an investment management firm in Bermuda."
Mr Higgins commented, "I wish to express my sincere gratitude to Deloitte for providing me with this endorsement through the Deloitte Scholarship. This result has been the culmination of years of hard work and will allow for a strong finish towards my final two years of studies."
"Having focused my prior work experience in the investment industry, moving forward I aim to provide corporate finance advice to global companies. Ultimately, my goal is to advise corporations in the Power, Utilities, and Infrastructure sectors as society transitions to a lower-carbon economy. My journey toward this goal has now begun with my co-op placement in Financial Advisory at Deloitte this summer."
The company added, "Beyond his academic and work achievements, Evan has also prioritized his involvement in the local communities of the University of Waterloo and Bermuda. While studying in Canada, he has committed extensive time acting as the Vice President of Market Research at the University of Waterloo Financial Analysis and Risk Management Student Association [FARMSA].
"Through FARMSA, he volunteers to support other students in their professional development and skills-based learning. He also leads the team in executing the monthly newsletter and weekly financial market commentary presentation. Evan is also an RBC Student Ambassador at the University of Waterloo campus.
"During his time as an International Baccalaureate student at Bermuda High School, Evan helped to lead Operations Smiles, a weekly playgroup for children with Autism. He was also a volunteer tutor for Victor Scott Primary while completing his schooling at Somersfield Academy."
Elizabeth Cava, Partner in Audit and Assurance, comments, "As a firm, we seek to invest in local talent and hope to play a role in the development of their career aspirations.
"We are pleased to award Evan with this scholarship as his achievements are well-aligned with Deloitte's commitment to individuals who demonstrate strong problem solving and creative skills. Evan's ability to maintain an impressive academic standing while completing Co-op placements and volunteer commitments show he is a great fit. We congratulate him on his success and wish him luck in his future endeavours."
"Deloitte Bermuda is a place for the curious and welcomes those who value imagination, natural ingenuity, delivering solutions and problem solving. At our firm, you'll find your unique fit in one of our financial services departments, including Audit & Assurance, Financial Advisory, Acturial, Risk & Analytics, Risk Advisory and Tax.
"We offer life-changing career and professional development opportunities for those who set no limits on their ambitions. Be a part of the Deloitte network and connect with our global community, gain valuable work experience, flex-work benefits, local and overseas training, volunteer opportunities and lifelong friendships. Deloitte Bermuda student programs include: Highschool Work Experiences, The Deloitte Internship Program [DEEP], Co-op Placements, the Deloitte Scholarship and the Deloitte Graduate Program.
"At Deloitte, there's a universe of career options for you, all with endless future possibilites. To discover yours, visit here for more information about our student programs."

Read More About