Davon Campbell, Anthony Gutzmore, Priel Minors, Shanya Simmons, Deidre Smith, Vanessa Sutcliffe, and Chantae Wilson have earned Athene scholarships.
A spokesperson said, "Athene Holding Ltd. [Athene] and its subsidiary Athene Life Re Ltd. [ALRe] held a reception event on October 6 to honor and recognize the seven Bermuda College students who were awarded the 2022 Athene Scholarship.
"Founded in 2019, the Athene Scholarship program is designed to help build the future workforce in Bermuda in areas that align with business needs.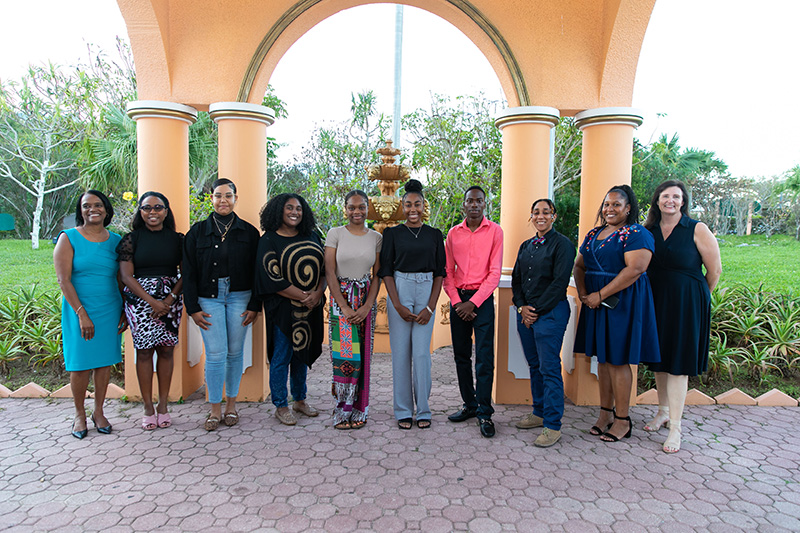 "The Athene Scholarship covers the full costs of each student's associate degree program and required books. It is available to Bermudian students attending Bermuda College who have financial need and meet a minimum GPA requirement.
"The scholarship supports students pursuing associate degrees in Accounting, Actuarial Science, Business, Economics, Finance, Human Resources, Information Technology, Insurance & Risk Management, Legal Studies or Mathematics.
"The Fall 2022 Athene Scholarship recipients and their respective areas of study are as follows:
Davon Campbell, Computer Information System
Anthony Gutzmore, Business Administration
Priel Minors, Computer Information System
Shanya Simmons, Business Administration
Deidre Smith, Actuarial Science
Vanessa Sutcliffe, Computer Information System
Chantae Wilson, Actuarial Science
Dr. Duranda Greene, Bermuda College President, said, "On behalf of Bermuda College, I express our gratitude to Athene for its continued support. These students have distinguished themselves academically and the generous scholarships remove financial barriers, thus enabling the students to focus on their studies as they pursue the next steps on their educational journey. Congratulations to this year's Athene Scholarship recipients."
"Celebrating our scholarship recipients is always an exciting time for Athene. We believe all students deserve an education to build a strong foundation for their future and have seen that vision come to fruition through our scholarship program," said Natasha Scotland Courcy, SVP, Chief Operating Officer, General Counsel for ALRe.
"We take immense pride in our role in developing the next generation of talent. As these students begin seeking employment, we hope to be their top choice as they continue developing their talents after the completion of their education."

Read More About