Violence against women has come under the microscope in a series of community discussions organized by local activists. All are invited to a virtual forum this evening [June 14] entitled: "Stop The Disconnect – A discussion on violence against women in Bermuda."
Organiser Robyn Swan said: "The disappearance and suspected murder of Chavelle Dillon-Burgess should be a wake-up call for all of us. We must examine the situation faced by all women, share our stories and ensure that the voices crying for systemic change are heard."
"The public is invited to share their experiences, concerns, and solutions with the aim of submitting a letter to the Commissioner of Police.
Ms Swan added: "There are so many Chavelles in our history. It needs to end. Let's make sure there are no more after this."
Former Human Rights Commissioner Tawana Tannock, who participated in the inaugural meeting of the series earlier this week, noted that the formation of the Bermuda Police Force in 1879 was catalyzed by a woman's murder.
"She lamented the fact that systemic failures continue to leave too many women unprotected in Bermuda today.
"We still see violent crimes committed against our women, we continue to observe a clear disconnect between The Bermuda Police Service, our judicial system, and the justice that abused women deserve."
Director of the Centre Against Abuse Laurie Shiell who also attended the first meeting with a number of other activists said: "These discussions are a must for anyone interested in human rights and making lasting change. We all know someone who has been violated. We all have a story."
Wednesday's meeting resulted in a compilation of recommendations for action. The second forum in the series takes place this Sunday June 14th 2020 at 8:00pm
Dani Pen founder of The Women's ACT, & Robyn Swan founder of Move Bermuda Forward are slated to co-host the discussion.
This meeting will take place in Zoom meeting room: – 750 0647 3841 Password: STOPBDA.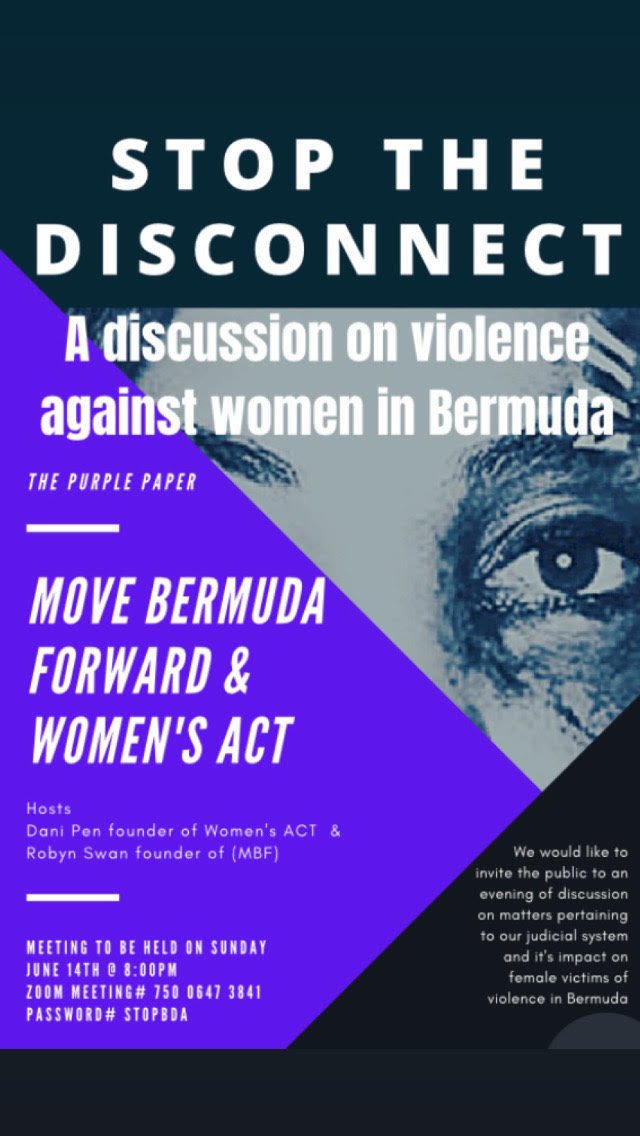 Read More About