[Written by Mikaela Ian Pearman]
Sunday brunch is probably one of my favourite meals, especially when the food is excellent. I love to nibble and graze for a couple hours while drinking mimosas. It's such a great past time for me.
But of course, most brunches aren't available right now and buffets are not exactly Covid-friendly. But thankfully, there are options.
Hamilton Princess is offering the infamous brunch at Marcus' to-go via Sargasso Sea – Brunch Revolution Box. I was given the opportunity to try out the new options and I'm happy to say, it's just as good at home as it is in the restaurant.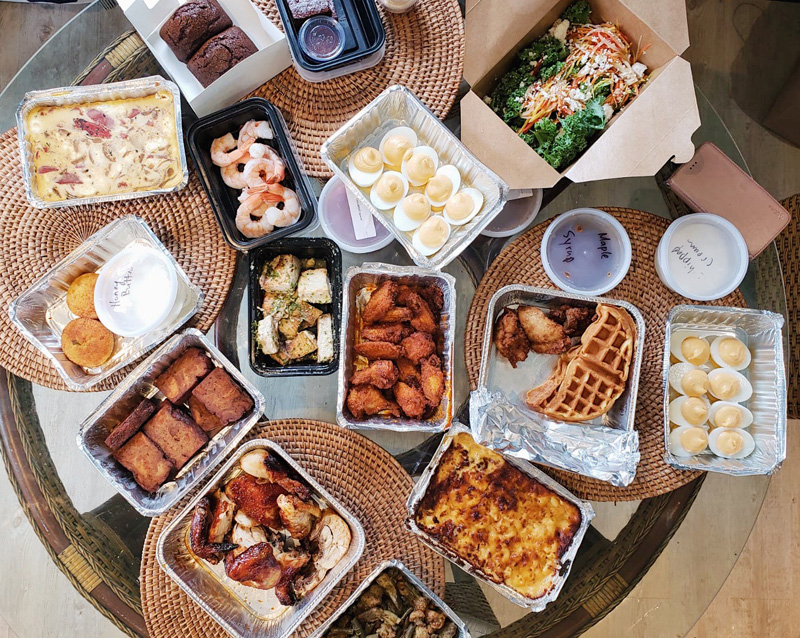 The brunch includes appetizers, breakfast options, main courses and dessert. For appetizers, we enjoyed chicken wings, deviled eggs, jalapeno cornbread, kale salad and shrimp cocktail.
I don't normally eat chicken wings but these were easily the best I've eaten in a long time. The flavour was incredible and they weren't greasy. The cornbread was inhaled in the car immediately after picking up the food and the deviled eggs were as good as they always are when I eat at Marcus. The kale salad added nice balance to the wonderful spread.
The breakfast options included chicken and waffles, French Toast and a roasted red pepper frittata. The frittata was the best out of the course – super savoury and delicious with goat cheese and caramelized onions. The French Toast was decadent and the chicken and waffles were so good.
For mains, we enjoyed swordfish with a garlic sauce, BBQ chicken, mac and cheese and pesto roasted veggies. This was my favourite course because everything was just so amazing. The chicken was nice and smoky, the fish was cooked perfectly and was so fresh, the veggies were a great mix with the peso and the mac and cheese was gooey and decadent. I would've been happy just with that course, that's how good it was!
Dessert was simple but delicious – chocolate brownies with ganache and gingerbread with whipped cream. They were the perfect end to an incredible brunch.
The thing that was incredible to me was the food was still hot by the time we got home – to St. George's. If you're looking for an awesome brunch option but can't be bothered being around people right now, this would be a great Sunday option. Plus, mimosas are cheaper at home!
Brunch Revolution Boxes are $170 for four people or $100 for two. They are available via the Sargasso Sea app and must be ordered by 8pm on Saturdays.

Read More About
Category: All, Entertainment