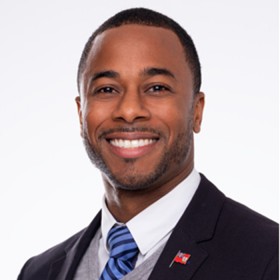 The Proof of Trust Group has incorporated a new company in Bermuda, with the company to be led by Kevin Richards.
A spokesperson said, "The Proof of Trust Group has incorporated a new company in Bermuda, The Proof of Assurance [Bermuda] Ltd, bringing cutting edge globally patented dispute and issue resolution technology to the island.
"The Proof of Assurance [Bermuda] Ltd will market itself under the Group branding, The Proof of Trust, and will be led by Kevin Richards, a Bermudian with a wealth of experience in the technology sector.
Commenting on the announcement, Mr. Richards said: "I am delighted to join such a forward-thinking and transformative company. The Proof of Trust's globally patented protocol provides an assurance layer that prevents invalid smart contracts from executing.
"The focus on smart contracts and the ability to provide data validation, operational assurance, and dispute outcomes provides the Bermuda ecosystem with the foundation layer the fintech movement has been missing.
"Proof of Trust offers public and private sector businesses an entry point for the adoption of distributed ledger technology that is easily understood and has the power to fundamentally increase speed and efficiency when entering into agreements, while dramatically reducing the risk inherent in contracts that companies and governments enter into on a daily basis."
A spokesperson said, "The Proof of Trust is a digital protocol powered by distributed consensus that is designed to manage dispute and issue resolution for smart contracts.
"Prior to joining The Proof of Trust, Mr. Richards worked at the Bermuda Business Development Agency [BDA] where he played a key role in working to diversify Bermuda's economy.
"Mr. Richards focused on attracting new technology businesses to set-up on the island, showcasing the country's innovative and world-class digital assets regime. He also served as an ex-officio board member on the Bermuda Government's E-Commerce Advisory Committee where he is now a full board member."
Dean Armstrong, CEO of The Proof of Trust Group said: "We are thrilled to be represented by Mr. Richards in Bermuda, as he has a deep understanding of what it takes to accelerate the growth of Bermuda's fintech sector and the role in which smart contracts can play in establishing a foundation for business services and contracts across multiple industries.
"We at the Proof of Trust are committed to investing and developing local expertise in this emerging sector. We hope that our operation in Bermuda will provide the lead in developing technical expertise in Blockchain related technology on the island which can then be exported across the region."
"The Proof of Trust, which recently outlined its intention to list on the main market of the London Stock Exchange, will connect and work with the Bermuda business community, in association with IBM, to reduce business risk, increase efficiency and usher in a new age of blockchain technology on the island."
If you are interested in learning more, visit theproofoftrust.com or contact info@theproofoftrust.com.
Read More About
Category: All, Business, News, technology