The Commission of Inquiry into Historic Land Losses in Bermuda is extending the deadline for submissions until Thursday, July 23rd.
A spokesperson said, "The Commission of Inquiry into Historic Land Losses in Bermuda wishes to advise the public that it will extend its deadline for submissions to Thursday, 23rd July 2020.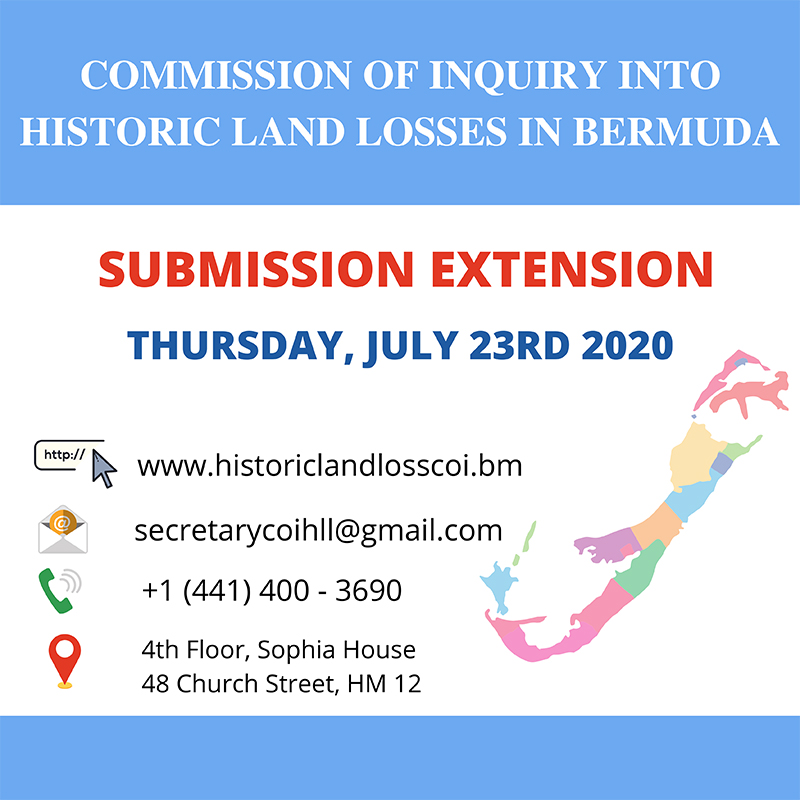 "There have been a significant number of requests from various sectors of the community for the Commission to extend its published deadline of Monday, 8th June 2020.
"Many persons were unable to access relevant Government departments and other sources of information due to the recent COVID-19 Shelter-In-Place regime. The Commission anticipates that the new deadline of 23rd July 2020 will afford those who are interested in submitting, additional time to collect and submit the necessary documents.
"Do not forget that, persons seeking standing with Commission should make a submission containing his or her contact information; the location of the property in question; a summary of the issues relating to the property; together with any relevant documentation such as Wills, letters, etc.
"Alternately, in cases, any persons do not wish to seek standing, but still have evidence [facts] or information relevant to historic losses of citizens' property in Bermuda, should file a brief summary of the evidence [facts] or information they wish to present at the hearings of the Commission.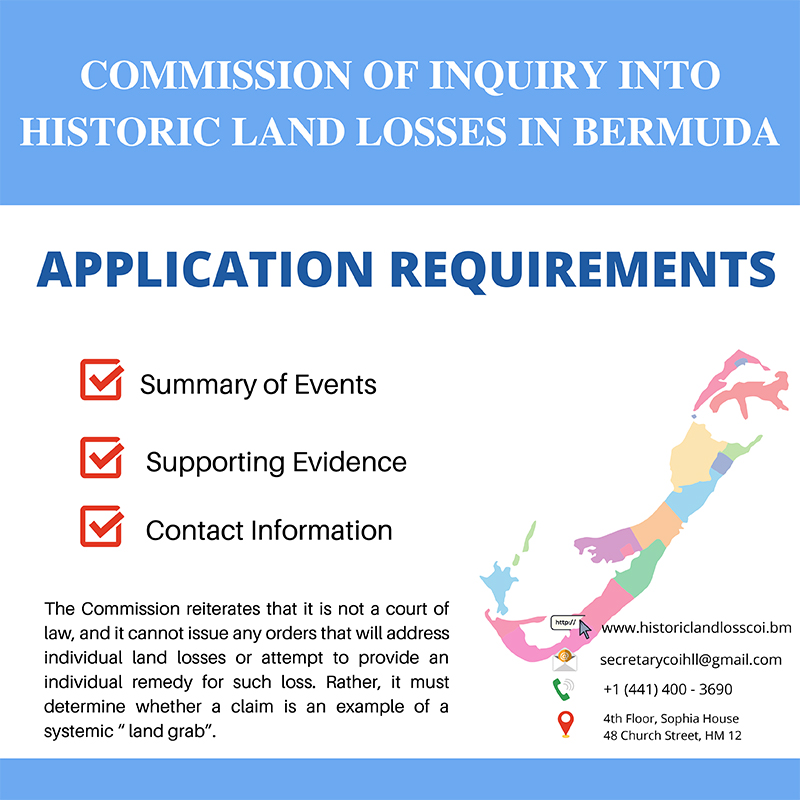 "As many are aware, pursuant to the Commissions of Inquiry Act 1935, the Commission of Inquiry was established on 31st October 2019 by the Premier, the Honourable E. David Burt JP MP. The Commission has been directed to inquire into historic losses of citizens' property in Bermuda, in keeping with the mandate of the House of Assembly as expressed in its Resolution of 4th July 2014.
"The Commission reiterates that it is not a court of law, and it cannot issue any orders that will address individual land losses or attempt to provide an individual remedy for such loss. Rather, it must determine whether a claim is an example of a systemic " land grab" and, if necessary, whether a report should be made to the Director of Public Prosecutions for further action.
"Persons wishing to submit an application can do so in one of three ways:
[1] via the Commission's website at historiclandlosscoi.bm;
[2] via email to secretarycoihll@gmail.com or
[3] in person at the Commission office, 4th Floor, Sofia House, #48 Church Street.
"For telephone inquiries please call 400-3690."

Read More About