[Updated with video] Two men have been arrested after a car was driven through a "checkpoint at speed and struck two soldiers," leaving one of the Regiment soldiers in critical condition in the ICU, and the other with a suspected broken ankle.
Checkpoint In Devonshire
A police spokesperson said, "At around 11:15 p.m. on Monday 29th June, police received several reports of a serious road traffic collision at a checkpoint manned by members of the Royal Bermuda Regiment, in the area of Demco florists on the South Shore road in Devonshire.
Struck Two Soldiers
"Reports are that a motorcar had been driven through the checkpoint at speed and struck two soldiers. They were both conveyed to King Edward VII Memorial Hospital by ambulance for treatment to their injuries.
One Soldier Listed In Critical Condition In ICU
"One of the soldiers is now listed in critical condition in the hospital's Intensive Care Unit and is waiting to be air-ambulanced to the United States for further treatment. His colleague sustained a suspected broken ankle.
Two Arrested
"Two occupants of the car, a 35-year-old male and a 27-year-old male, were both taken into custody. The 27-year-old male, said to be the driver of the vehicle, was arrested on suspicion of driving under the influence of alcohol or drug.
"Anyone with information on this incident, is asked to call 211, or the main police line, 295-0011.
"The Bermuda Police Service once again advises members of the public to give themselves sufficient time to get to their final destinations before the commencement of the nightly curfew."
Update | Photo below via the police: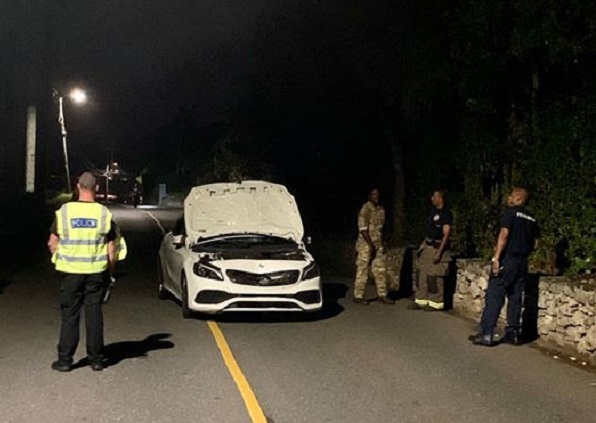 Update 10.00am: Premier David Burt tweeted, "This morning I will open our cabinet meeting with a prayer for our soldier who is in serious condition following a senseless act of violence. For the past 3 months, our young men & women have been doing an incredible job. Our Island is grateful for their service & sacrifice."
Update 11.40am: Shadow National Security Minister Ben Smith said, "This is yet another incident where people appear to show complete disregard for the lives of others. Coming after so many acts of violence recently, when there have been so many calls for calm, this simply beggars' belief.
"The two Royal Bermuda Regiment soldiers injured in an incident last night would have been volunteers who were put on the frontline to help protect our community. What happened to them is beyond appalling.
"My thoughts are with the families of these young men. I am sure they are wondering why their sons, brothers, nephews were targeted in this way when they were just doing their job for the country.
"I call on our community to bring an end to these senseless acts. We must be united in a common goal of protecting lives and livelihoods from the Covid crisis. We cannot, should not, be distracted by senseless acts such as this."
Update: Video of the press conference
Update: Regiment Commanding Officer Lieutenant Colonel Ben Beasley said, "As many are aware, whilst on duty at a Community Advisory Point, two soldiers were struck by a car just after 11 o'clock last evening, Private Wilkes sustaining a fracture to his leg, whilst Private Williams is currently fighting to stay alive due to a comprehensive series of injuries.
"When you join the military, you agree to take on challenges and increased risks. These soldiers like their colleagues accepted the increased risk of contracting COVID-19, and agreed to spend weeks away from their families under stressful conditions, while conducting service to the country.
"They were enforcing the curfew regulations that were designed to protect the people of Bermuda. But to be struck by a motorist who was flouting the regulations is obscene.
"The Regiment has conducted over 274,000 checks over these past 13 weeks with overwhelming compliance. Yet, the actions of one individual has now caused our collective hearts to break, families to weep, and a mother and daughter to question if her son and father will see the end of the day.
"We now take solace in 2 things. The first is that our colleagues in the Bermuda Police Service will conduct a thorough investigation and that this event will be concluded appropriately.
"Secondly, this will not dissuade us from serving our country. Rather, we will process these events, each soldier in their own way, and collectively we will draw strength from each other. Make no mistake, the men and women of your Regiment are angry and saddened, but they will continue to serve because it is their duty and what their friends would want.
"To Private Wilkes and Williams and your families, this event is one of the darkest in the Regiment's history, and it will not be forgotten, and know that every soldier you serve with and the wider community is thinking of you and counting the days until you are back with us."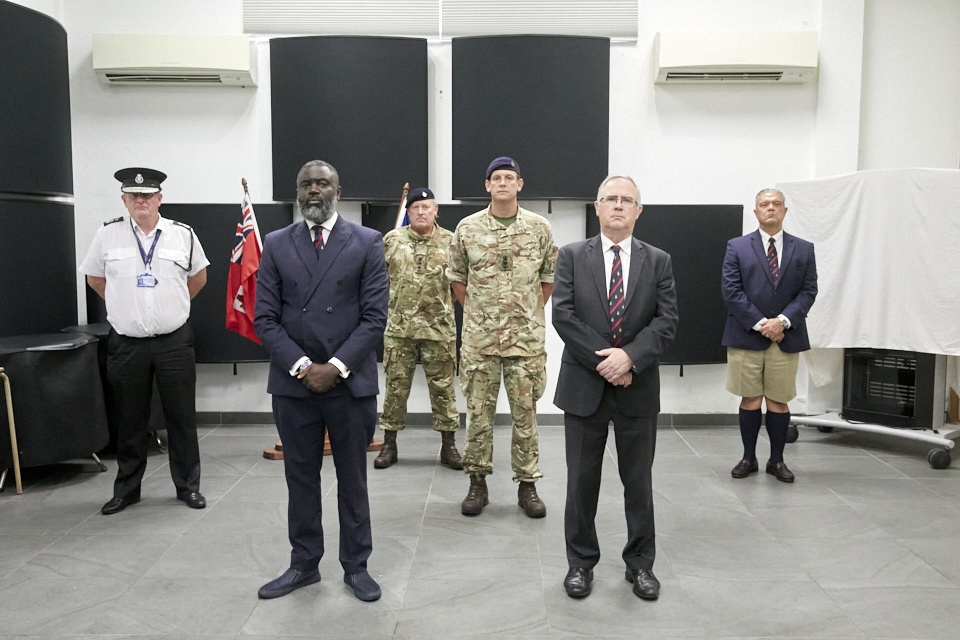 Update: Minister of National Security Wayne Caines said, "Today, we felt it important to show our support and solidarity for the two RBR soldiers who were seriously injured at one of the Check Points on Monday night. I extend my thoughts to both of these soldiers and their families as they begin the recovery process. We have committed to standing by them and supporting them during this difficult time.
"I think it's important to remind the community that we must support and respect the work that our young troops are doing on the front lines during this COVID-19 pandemic. They are there to protect us.
"Over the last 13 weeks of this pandemic, the men and women of the RBR have provided an invaluable service under what can at times be difficult and challenging circumstances. And as the Minister of National Security I wish to extend my thanks and appreciation to all our soldiers who serve this Country.
"I want to urge the public to please keep these young men who were injured in their thoughts. And above all please continue to support all of our uniformed service officers and essential workers as they continue to serve and protect Bermuda."
Read More About
Category: Accidents and fires, All, News