A Delta airlines flight — the first commercial flight from the United States since March –  landed at the LF Wade International Airport this afternoon [July 6], marking the second commercial flight to land in Bermuda since the airport fully re-opened earlier this month.
The first commercial flight this month, an Air Canada, landed on July 2nd, and this month's flight schedule includes once a week Air Canada flights on Thursdays, daily Delta flights from Atlanta effective today, and twice a week flights from British Airways effective July 17.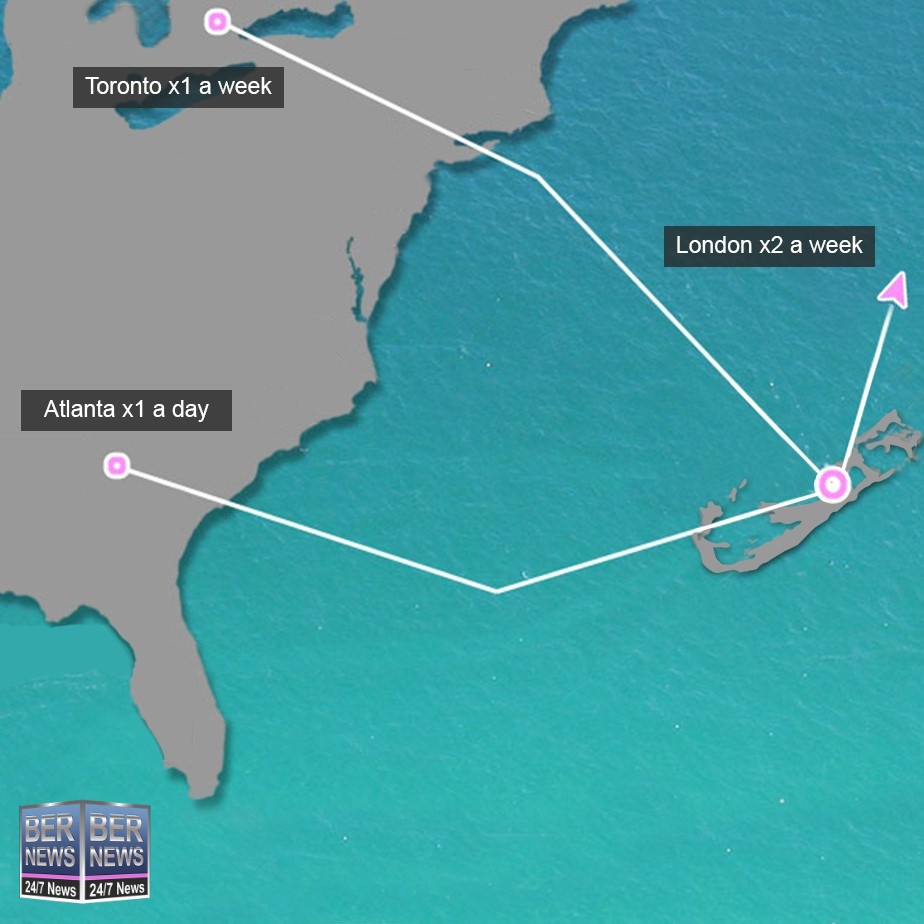 From late March to July 2nd there were no commercial passenger flights to the island, however cargo, charter and private planes were arriving.
On June 26th, Minister of Tourism and Transport Zane DeSilva said, "Delta's flights from New York and Boston are on hold. JetBlue anticipates providing service from those two cities starting in August, while American Airlines will fly from New York.
"The other air service that we believe will start in August is WestJet, also from Toronto. Flights from Philadelphia and Miami on American will not begin before December. What we refer to as 'seasonal' flights from Newark, Washington DC and Charlotte are cancelled for 2020."
"On average, as a result of the pandemic, Bermuda will experience a 61.7% reduction in air capacity in 2020, when compared with 2019.
"What does that look like in numbers? In 2019 our air capacity amounted to 579,720 seats and the 2020 projection was 543,325 seats. Now, we project a total for 2020 of 221,940 available seats. That is 357,780 fewer seats for travelers than last year.
"I must emphasise these schedules change regularly – weekly, even! So, we will continue to monitor seat availability as and when schedules adjust," the Minister added.
The acceptance of flights from the United States has been subject to discussion, with a petition being launched calling for the Government to not allow flights from the U​SA due to their high rates of Covid-19, with Premier David Burt issuing a response to the petition saying "our testing requirements for visitors are the most stringent in the world and are designed to keep our residents and visitors safe."

Read More About