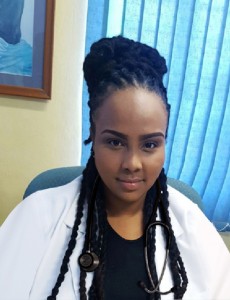 Back in March, Dr Paula Estwick flew home to Barbados for a short visit to see family and friends; she had no idea at the time how quickly and drastically the world would change due to Covid-19.
Dr Estwick just recently completed her mandatory quarantine period after arriving back to the Island in mid August; she is eager to start seeing patients again next month at her office at Northshore Medical and Aesthetic Center [NMAC].
"I never thought a two week vacation would turn into five months overseas," said Dr Estwick, a GP, known for supporting patients with weight loss and women's health issues.
"I remember when I was in medical school in 2008 there was the SARS outbreak, but it didn't impact us to this extent. SARS was a bit of a scare, but it didn't turn into a world wide pandemic like Covid-19 has. Had I known how serious this crisis would become I would have stayed put and postponed my visit home to see my son."
Similar to the situation in Bermuda, Dr Estwick explained she spent several months in lockdown in Barbados and was only able to access vital services like groceries on designated days of the week.
"The past few months have been a challenging period for many," Dr Estwick explained. "I've spoken to numerous patients of mine who have struggled with their physical and mental health due to Covid-19. The isolation of being inside for long periods of time without face to face contact with other people has led some people to experience anxiety and feelings of depression.
"In addition, some have lost their job or dealt with diminished income, which only adds to their worry and uncertainty. It's been a difficult time even for me. I tell people just because I'm a doctor doesn't mean I'm magically protected from stressors in my environment or community."
For anyone struggling with their mental health, Dr Estwick recommends they go to see a therapist. For patients who happen to come to see her first, she can offer Neurotransmitter testing in office, which may help identify imbalances before symptoms or serious problems arise.
According to Dr Estwick, another common problem patients have experienced over the last few months is weight gain. Some people use food to cope with stress and anxiety; this coupled with less exercise during the lockdown has resulted in excess pounds, particularly around the mid section.
"Weight and mental health are intimately related," Dr Estwick explained. "When someone gains weight it can impact their confidence and feelings of joy and satisfaction. Mental health issues can also lead to weight gain, so it's a vicious cycle."
She encourages people to be proactive in reaching out to their doctor if they've seen a decline in their health due to the pandemic.
For more information, visit nmac.bm or call 293-5476.

Read More About