A 20-year-old man was arrested on suspicion of driving under the influence following an incident which saw the rider travel the wrong way up Par-La-Ville Road and crash into another motorcyclist.
A police spokesperson said, "Shortly before midnight on Friday, 7th August, officers from the Roads Policing Unit [RPU], were stationed at number one car park on Front Street monitoring traffic when they observed a dark coloured motorcycle traveling at a high rate of speed west along Front Street.
"The officers also noticed the female pillion passenger, was not wearing a helmet.
"The officers attempted to stop the motorcycle but the rider failed to comply,
"The offending rider was eventually spotted at Albouy's Point, where the female passenger got off the bike.
"Upon seeing the officers approaching the rider, a 20-year-old male, sped off and went north up Par-La-Ville Road, the wrong way against the flow of traffic.
"The RPU units did not pursue, given the danger posed by doing so under the circumstances.
"As he got to the junction of Par-La-Ville Road and Church Street, the suspect collided with the 54-year-old male rider of another motorcycle.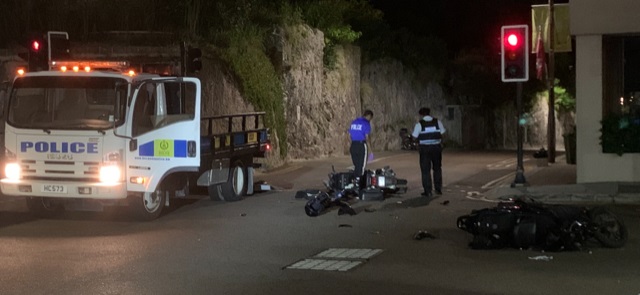 "Both riders were left unresponsive as a result of the collision.
"EMTs were called out to the scene, and attended to both riders, who by that time had regained consciousness. They were transported to the King Edward VII Memorial Hospital for treatment to injuries which were determined to be non-life threatening.
"The 20-year-old male was subsequently arrested on suspicion of driving whilst under the influence of drugs or alcohol.
"Anyone with information on this incident is asked to call 211 or the main police number 295-0011."
Read More About
Category: Accidents and fires, All, News