[Updated] The Progressive Labour Party [PLP] is holding a press conference this morning [Aug 24] where they are announcing their first two candidates for the 2020 General Election, which is set to be held on October 1st, 2020. We will have additional coverage later on and in the meantime the live video is below.
Update: The PLP announced that Senator Crystal Caesar will run in Constituency 31 Southampton West Central, while Jason Wade will run in Constituency 30 Southampton East Central.  Both seats are currently held by the OBA, with Ben Smith serving as the MP for C31, while Leah Scott is the MP for C30.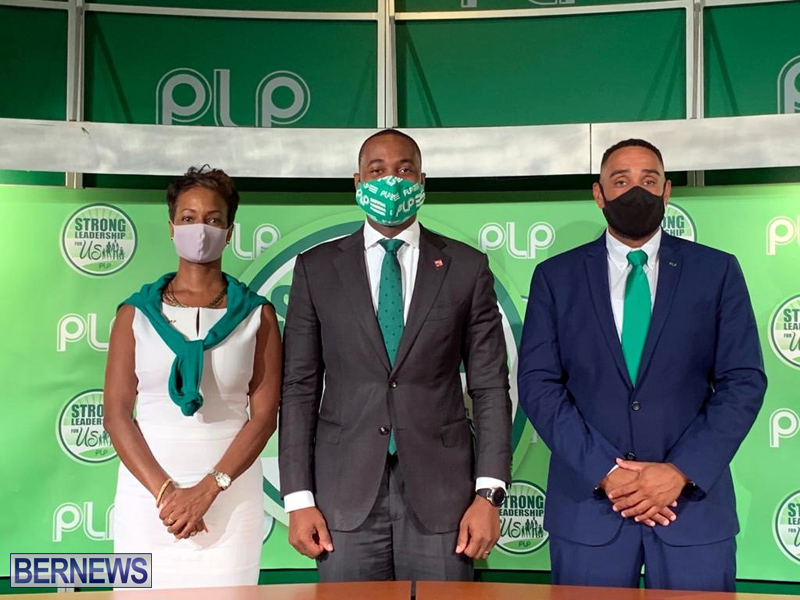 Live video replay:
Update 1.15pm: Premier David Burt's remarks:
Good morning. Thank you for joining us here today,

We are excited to announce our candidates for Constituency #30 – Southampton East Central, Jason Wade; and Constituency #31 – Southampton East Central, Senator Crystal Caesar.

I am continuously impressed with the caliber of candidates we're attracting for this election, and Jason and Crystal are certainly first rate.

This election is about leadership – but, it's not just our party leaders, it's our teams as well. We all know that tough times are ahead. While we ably handled the health crisis, we're not out of the woods yet and we will continue to have to remain vigilant and adjust our policies to keep our community safe. And, we all continue to have to do our part by wearing masks and keeping our physical distance in this, the new normal.

But, we also have the economic recovery to address. I'm pleased to see our work from Bermuda policy already attracting nearly 200 applications but, this policy is just the tip of the iceberg. As we seek to rebuild Bermuda's economy not just for those who have always done well, but, we will provide more ownership opportunities for Bermudians.

Since our election, we've made good progress on our priorities, but, there is still more work to do. We've increased funding for our schools and updated their technology, increased scholarships significantly and hundreds of Brermudians attend Bermuda College, regulated the payday loan industry to cut down on predatory lending, strengthened the ministerial code of conduct, increased affordable housing for seniors and families, increased paid maternity leave, decriminalized cannabis and expunged non-violent cannabis convictions from people's records, and – and, I'd like to emphasize this – we lowered payroll taxes for working families to the highest level in history.

With that said, I'm pleased to re-introduce Senator Crystal Caesar, who has done a fantastic job serving Bermudians in the Senate. Crystal came very close to a victory in #31 in the last election and I'm confident that given the work she's done in the community, she will be victorious this time around.

Congratulations Senator Caesar.

Now I will introduce our new candidate for constituency 30 Southampton East Central. He is an educator, sportsman, community leader and entrepreneur. I am proud to introduce Mr. Jason Wade as the Progressive Labour Party Candidate for Constituency 30.
Senator Crystal Caesar's remarks:
Good Morning Premier and Party Leader, the Hon. David Burt, JP, MP, Family, Friends, Party Members, Members of the Media and the Voters and Residents of Constituency #31, Southampton West Central.

I am honoured to be selected again as the Progressive Labour Party's candidate to represent Constituency #31. During these times, whilst Bermuda and the world is fighting a pandemic, I am proud to be a part of a team that truly cares about all citizens of this country. The PLP's unwavering leadership has and continues to carefully guide us through maintaining a balance of protecting the community's health and getting the country back to work. We are quite aware that we are not out of the woods as there are still challenging times ahead of us in trying to stay on top of the incidences of coronavirus cases and resuscitate the economy in a way that doesn't just benefit those who have always done well, but, truly works for all Bermudians.

Bermudians want to work, earn a comfortable living, have top notch education that will prepare them for employment, affordable health care, access to job opportunities to be successful contributing members of society and live in a country where the leadership puts their well-being first. The PLP is the party with a heart for the people. And, we are blessed with strong leadership. We have those who are well-versed in labour relations, we have educators, business and finance people. We have those who know the law and judicial system; those who are connected to the arts, culture and sports. We have entrepreneurs; those involved in the hospitality industry, medical professionals, political experts and the list goes on. We can be trusted to ensure that all residents and voters needs and concerns are addressed, and ideas are given full consideration. We have a capable team and an intelligent and strong leader, all of whom are rooted in the community with a social conscience and a heart for the people.

Whilst I do not live in Southampton, I am truly a girl from the west. Many of the Constituents of 31 are not just people I know but we share childhood experiences from growing up in the West End. Many are fellow schoolmates of mine from attending West End Primary when Mrs. Manders was the principal. Others attended Somerset Primary where we had our Girl Guide meetings and some of them were in Somerset Majorettes with me or remember taking dance classes overlooking Mangrove Bay at the Somerset School of Dancing. And of course we all support the best Cup Match team, which we all know is Somerset.

I have had a varied professional career in the financial services industry with a Certified Public Accounting designation. I have worked in regulation, banking and law however, currently I am working in the hospitality field as the Finance Manager for Bermuda's world renowned golf course, the Mid Ocean Club. Additionally, I am involved in Bermuda's small business sector as the Business Manager for the premier local design company Ambiance Bermuda and for a fast-growing local excavation & trenching business, Alternative Concrete Solutions.

For the past three years I have served Bermuda as a Senator and Junior Minister. I have spoken in the Senate on a range of issues including Health, Economic Development, Home Affairs, Immigration, Tourism, Transport and National Security. I served on the Joint Select Committee for Child Protection/Sex Offenders Registry. Additionally, my fellow Senators and I have carefully shepherded critical legislation and policies through the Senate such as the regulations needed to respond to the Covid-19 pandemic, laws to ensure we protect our jurisdictional reputation, access to funding for Bermuda's entrepreneurial minded, provided incentives and concessions in the tourism industry to assist in its growth; and provided funding to ensure those who wish a higher education the opportunities to do so.

My experience in the Senate has provided an excellent training ground for me to now take up the mantle to represent the voters of Constituency 31 in the House of Assembly. Since the last election, I have remained available to hear your concerns. I have seen some of you at Barnes Corner when I have had clinics or during my continued canvassing in the area or just out and about in the community. I have taken your ideas, suggestions and requests onboard, and relayed them to my parliamentary colleagues for implementation and inclusion in policies and regulations to benefit us all.

Now, I humbly ask for your support and for you to vote for me on October 1 st and for the strong leadership of David Burt and the PLP team.
Jason Wade's remarks:
Good Morning Premier, the Hon. David Burt, JP, MP, Family, Friends, the constituents of Constituency 30, Southampton East Central and Bermuda.

Today I stand before you as the PLP's candidate for Constituency 30, Southampton East Central with great humility. I am a son of the soil, as I have lived in this constituency for most of my life. I have witnessed many positives in the community, as well as some concerns that still exist. I am asking the voters of Southampton East Central to trust that every voters' concerns will not only be heard but will also be addressed to ensure our community remains strong. As a child, I was once told by a member of the community to never forget where I came from, which is why I am dedicated to serving in Constituency 30.

I have gained valuable experience leading an outstanding team as the former President of Southampton Rangers Sports Club. The team I have led successfully revived the youth programs that had sat dormant for 14 years, facilitated weekly seniors' nights whilst balancing the books which enabled us to reinvest in our community.

I have served on the Board of Education since 2016 as I remain committed to youth development, and have had the opportunity to assist in the development of Plan 2022 which includes the phasing out of middle schools and replacing them with signature schools, focused on specific areas of study. I am also grateful to continue to serve as the Chairman of the Board at CedarBridge Academy. I have had the honor of working with some of the island's top educators and support staff over the past few years. Through leading a great team, we have maintained CedarBridge Academy's positive reputation and effectively turned it into a technology-based school. This includes outfitting all classrooms with updated video technology which means that every class could now be done virtually. CedarBridge was also the first in Bermuda to implement Google classrooms. Another amazing accomplishment of CedarBridge Academy is the increased number of students that have been graduating from the Dual enrollment program with the Bermuda College .

From my time in the classroom as a former teacher to my time in the boardroom, I have continued to remember the lessons my parents taught me: to be respectful and remain humble. These are the traits I will take with me to the House of Assembly if elected.

As we have been thrown into unforeseen circumstances due to the current pandemic, with more challenging times to come, it is important that your voice is heard. I am certain that through continued capable and effective leadership, Premier Burt and the PLP Government will get us through the challenging times to come. I am confident that as your representative all constituents' concerns will be heard and addressed from the Eastern boundary of Riviera Estate to the Western boundary of Church Road. Since the Constituency 30 team has been visiting the doorsteps over the last several years, we have listened to voters' concerns. I look forward to continuing to visit all of you in the next few weeks and going beyond listening to acting on the concerns that the voters of Southampton East Central have.

Many have asked why enter politics now? To me the answer is simple, it's simply why not now? I have dedicated the better part of the last five years to giving back to my community in numerous roles. This takes me back to my political philosophy of never forgetting where you came from, and having a heart for the people. But, more importantly always giving back to the community that has given me so much. I would be honored to serve the voters of Southampton East Central going forward. At the end of the day, this election is about leadership. The truth is, the next few years will be tough for our community, but, it also presents an opportunity – an opportunity to rebuild our country in a way that puts Bermudians first. The PLP aren't perfect but, they are working to keep their promises and their heart is in the right place.

I would like to thank The Hon. Premier David Burt, My Family and my Friends for their support here today as we look to give the voters of Constituency 30 someone who truly cares about this community and will advocate for all of you.

Read More About