Premier David Burt tweeted a letter that he sent to OBA Leader Craig Cannonier asking the Opposition Leader about the resignations from his party noting that each by-election costs $30,000, and Mr Cannonier responded by saying the Premier making the letter public was "a cheap political PR stunt."
Premier Burt tweeted the photo of the letter, saying: "I sent this letter to @Craig_Cannonier today. In the interest of transparency, I am sharing it with the public. Over the past 4 months, I have continued to reach out to be bi-partisan & transparent. I hope that we can continue to work together in the best interest of Bermuda."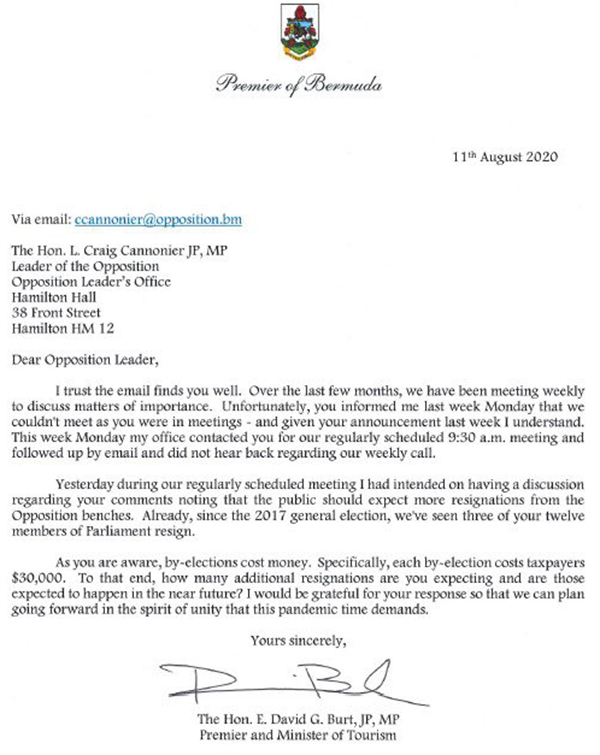 Premier David Burt's letter:
In the letter, Premier Burt said, "Dear Opposition Leader,
"I trust the email finds you well. Over the last few months, we have been meeting weekly to discuss matters of importance. Unfortunately, you informed me last week Monday that we couldn't meet as you were in meetings – and given your announcement last week I understand. This week Monday my office contacted you for our regularly scheduled 9:30 a.m. meeting and followed up by email and did not hear back regarding our weekly call.
"Yesterday during our regularly scheduled meeting I had intended on having a discussion regarding your comments noting that the public should expect more resignations from the Opposition benches. Already, since the 2017 general election, we've seen three of your twelve members of Parliament resign.
"As you are aware, by-elections cost money. Specifically, each by-election costs taxpayers $30,000. To that end, how many additional resignations are you expecting and are those expected to happen in the near future? I would be grateful for your response so that we can plan going forward in the spirit of unity that this pandemic time demands."
OBA Leader Craig Cannonier's statement:
In response, OBA Leader Craig Cannonier said, "For the past six months, the Premier and I have spoken and WhatsApped very frequently indeed. We have worked together to guide Bermuda through the Covid crisis. For some reason he now decides to write me a letter and to make it public as a cheap political PR stunt.
"Bermudians need to ask why private correspondence between the Leaders of two parties is being made public by the Premier in this way. The Premier chastised the Hotel Association for doing exactly what he has just done. It is hypocrisy at its best.
"I was asked if I expected more MPs to retire. The answer was yes – of course. People normally want to retire and enjoy their later years, but this is true of OBA MPs and PLP MPs, as I actually stated. I hope that the Premier is asked about his own MPs who might be considering retirement.
"The Premier says he is concerned about the cost of a by-election. If the Premier is that worried, perhaps he will lower the Ministerial payroll instead of increasing it. Perhaps he will choose not to hire so many consultants.
"Maybe he will also ask for the $1.2m payment to a former PLP Premier to be paid back. How many by-elections would that pay for?
"Mr Premier, if you need me, send me a WhatsApp as you usually do. You've got my number. And if you want to know which MPs might retire next, maybe you should ask your backbenchers, as I hear many of them want to leave.
"If your political advisors told you that releasing this letter was a good political strategy, you should ask them to resign. Are these the same folks telling you to push for independence?
"Mr Premier, please do not get side-tracked by fake news. We need you to concentrate on fixing the economy. If you want me to help, you know my number. Just WhatsApp me."
Read More About