Supatone is offering tech courses for people who may not be too tech savvy to help them adjust to the new normal, covering topics such as using Zoom, email issues, working from home and more.
A spokesperson said, "What started out with a request at work for IT training begged the question 'are there others in Bermuda that need help with this?'  After speaking with groups such as Age Concern, Life Learners, and Olderhood Group, the answer was confirmed – yes.
"Based on feedback, we realized that many members of the community, particularly the older generation, are feeling increasingly stressed due to COVID 19, having a hard time catching up with technology and adjusting to what they call the 'new normal.'
"While Bermuda fortunately has a Government who understands and utilizes technology, what we want to do is make sure that those who are not as tech-savvy are not left behind.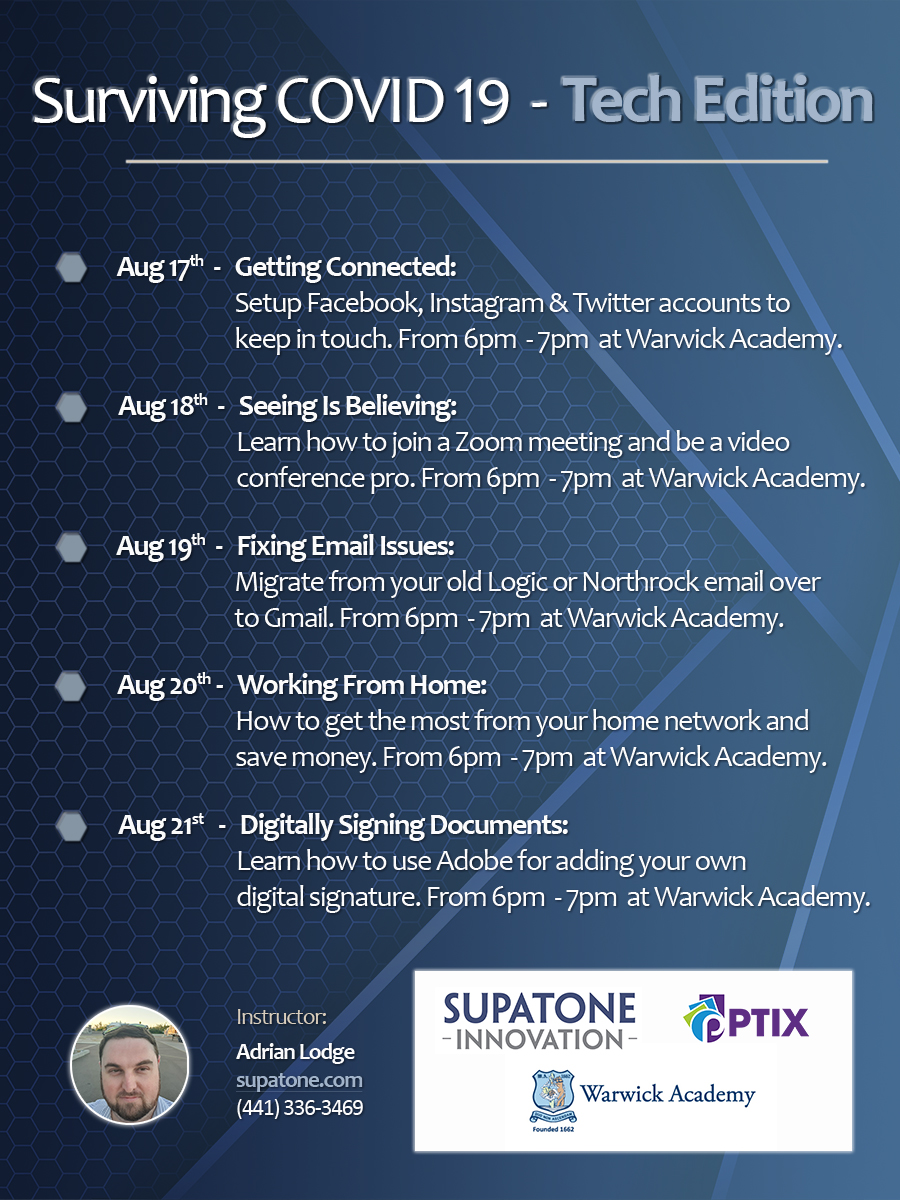 So the first course is really to help those who are not confident using a computer to be able to find out information such as what days garbage collection is during a holiday, or answering questions like "do I need a Twitter or Facebook account to see what Premier Burt is live-streaming?"
Another question which is often brought up, is whether Zoom is actually safe to use. Due to privacy concerns some people or organizations prefer to use Cisco Webex, Microsoft Teams, or other video-conference tools. This course will cover how to schedule a meeting and discuss the differences between other options available.
Several of our clients who are using a Logic email have expressed concern with recent issues and are looking to migrate to a new email address. Changing to a new email can be more complex than it sounds. This course will give a step by step guide to migrating to a free service such as Gmail.
Another hot topic during the pandemic, especially for those who are using internet more than usual is whether the home Wi-Fi is setup properly. People typically don't notice losing signal in different rooms unless they are on a video call or trying to work remotely. This course covers how to check performance and determine if you are actually getting the full 100Mbps you are paying for, and what that actually means.
Finally, the ability to sign a document, which has typically been done at the office by printing, stamping, scanning and emailing, was impossible while Shelter in Place was happening and forced many companies to do it differently. To move to a more efficient, paperless solution, this course covers how to sign a document using the free version of Adobe Reader.
"Again, depending on your level of comfort with IT you may be able to figure these out on your own, or it may be beneficial to have someone go over it with you. Sometimes people prefer having that personal connection and being able to ask questions rather than just learning from a YouTube video. We wanted to give everyone that opportunity if they need assistance but were not sure where to go.
"Each of these courses will be an hour long from 6pm – 7pm at Warwick Academy, for $50. We would like to thank Warwick Academy for facilitating a safe learning environment, as well as PTix for using their online ticketing system. If you are interested in attending any of these courses please check www.ptix.bm/survivingcovid19 or you can contact Adrian Lodge at [441] 336-3469 to register."

Read More About
Category: All, technology