West Ham United recently highlighted Clyde Best, calling the Bermudian football legend "one of the pioneer black players in English football."
A story on West Ham United's website said, "The Premier League's admirable No Room For Racism message came across loud and clear at every one of its matches last weekend and will do again when West Ham United host Manchester City on Saturday.
"There should never be any room for racism in football or in life in general – and the Premier League's initiative will surely help to bring that message home.
Clyde Best in action in 1973, photo via the West Ham website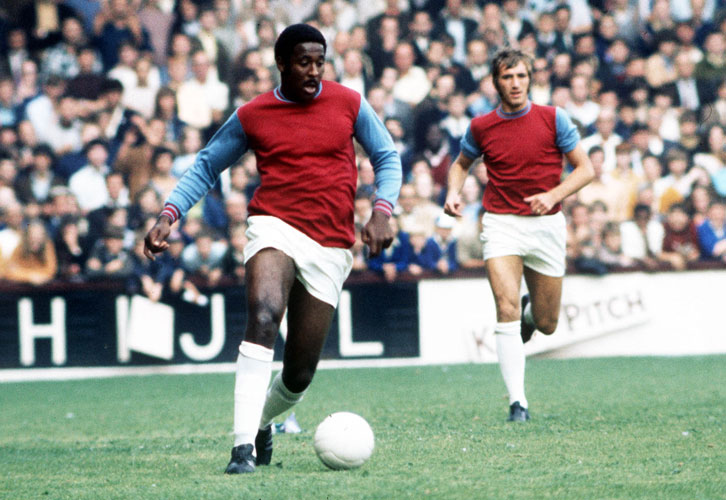 "West Ham have, over the years, been at the forefront of confronting racism, both in their stadiums and in the wider community – and it was notable that one of the club's players, Clyde Best, was recently featured in a BBC piece during Black History Month.
"Big Clyde, a gentle giant from Bermuda, joined West Ham back in 1968, when racism was more evident – but much less condemned.
"Along with brothers John and Clive Charles and striker Ade Coker, Clyde was one of the pioneer black players in English football.
"He arrived in England, not by private jet and chauffeured car – but via a bus to Victoria and the District Line to West Ham on a cold, wet Sunday night.
"Still clutching his suitcase, he seriously wondered if he should go straight back to Heathrow for the next flight home to Bermuda but luckily a passer-by directed him to the nearby home of Mrs Jessie Charles, mother of John and Clive.
"So began a special relationship between West Ham and Clyde, a popular figure, loved by Hammers' fans during the seven seasons he was at the club.
"During that time, as former team-mate, Sir Trevor Brooking recalls, Clyde was upset by the racism at away grounds – and particularly by one disgusting letter in 1970 threatening to throw acid in his face if he played in West Ham's next match."
You can read the full story here on West Ham United.

Read More About