The Somerset Cricket Club is getting set to celebrate the life and accomplishments of legendary footballer Clyde Best.
A spokesperson said, "The accomplishments of Bermuda's legendary footballer Clyde Best are internationally documented. He was a superstar for both Somerset Trojans and Bermuda and his distinguished football career paved the way for blacks in the United Kingdom and worldwide by breaking down barriers of entry at the highest level of football in that country.
"We are enormously proud that this trailblazer is a son of the soil who commenced his football career at West End School here in Somerset before moving to Prospect Secondary School for Boys, Somerset Cricket Club and, of course, the Bermuda National Team – the launching pad for his professional career with West Ham United in the English First Division at only 17 years of age.
"Given his illustrious professional career, both locally and internationally, and his continuing assistance with the Somerset Cricket Club [SCC] football teams, the management of SCC has resolved to establish the Clyde Best/SCC Scholarship Fund in his honour."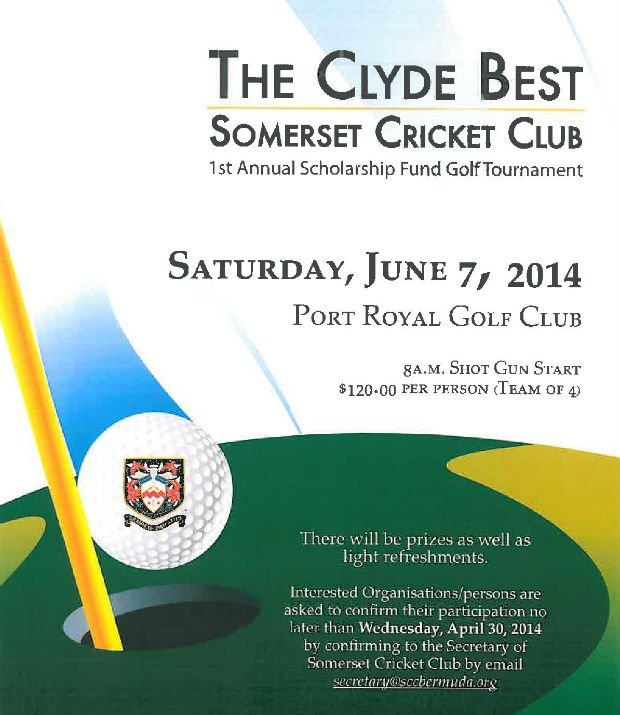 In order to raise money for that cause, the Somerset Cricket Club will host its first annual Scholarship Fund Golf Tournament on Saturday, June 7, 2014 at the Port Royal Golf Club.
The event, which will feature prizes and light refreshments, will get started at 8.00am. The cost to enter is $120 per person, registered in teams of four.
Following up on that effort, the Club will celebrate the life of Mr. Best by hosting a buffet banquet on Friday, June 13, 2014 at the Fairmont Southampton Hotel. Cocktails will be available from a cash bar from 6.30pm, with dinner to follow at 7.00pm.
Tickets to the buffet banquet are $125 each. A subsequent golf tournament will be held in Mr. Best's honour on Saturday, June 14.
Read More About