Jamil Robinson is a determined athlete who has had to overcome a great deal of adversity to earn his place in the Asia Pacific Dragons squad, which will be taking part in the rugby World Ten Series in Bermuda.
Earlier this year he was involved in a car accident that, in his words, he was 'lucky to survive'. This incident meant he missed the Rugby Combines at the IMG Academy in Miami.
"I was unable to go to the Combines due to a car accident involving me and my mother, that happened earlier this year," said Mr Robinson.
"We both survived, which is a blessing, but since May have been dealing with back problems and body issues. I have been going to see chiropractors and undertaking physiotherapy, massage therapy and working hard every day to get fit.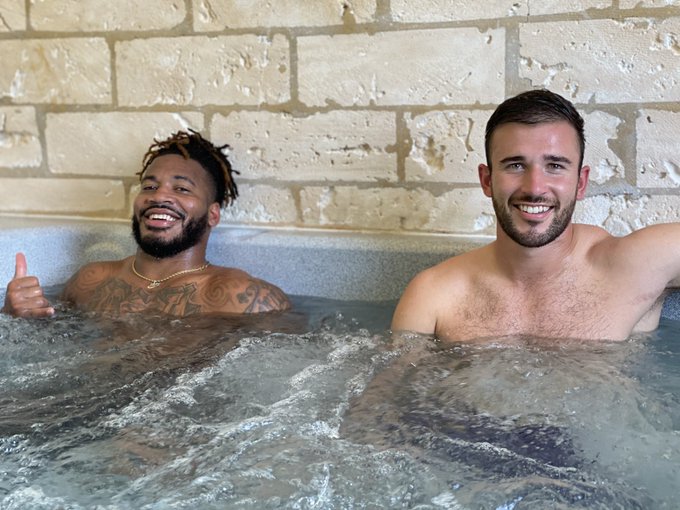 "I flew out to San Diego and trained with one of the US Team trainers, Les Spellman to get myself right, working on my agility and speed. Once I got all that back together, I was able to get in contact with the guys out here running the Tens. It is a blessing I was able to get in so in grateful for that, as I almost didn't make it."
Thankfully, he has recovered, and the time spent in San Diego was beneficial for his body and mind. The fact that he was still selected for the APDs squad speaks volumes about how highly regarded he is, with Paul Holmes and James Walker key figures in his rapid rugby rise, as he shortly alludes to.
He started at Ohio University and as a freshman looked to earn a place on the football team, which didn't work out. Football's loss is certainly rugby's gain.
"I was looking at other options to stay on track and came across rugby. I had a few friends who said I should play and that I would probably do ok, and that is what happened," he said.
"I started playing for Ohio University and that is when I met Paul Holmes and Tiger Rugby. He had a mid-west All Star game that I joined with him and ever since then I have been in contact with Paul and James (Walker) and the guys at Tiger Rugby."
As a cross over athlete, Mr Robinson is grateful for the opportunities he has been offered in his route to rugby.
"What Tiger Rugby did so many years ago has been a great pathway for any cross over athlete, football, wrestling, track, it has been amazing.
"There was the programme back during the Rio Olympics where they had the Tiger Academy at Columbus, Ohio. They had 16 guys living in a home, training twice a day, every single day to get ready, honing skills and making sure we were becoming better rugby players and not just better athletes.
After rugby union initially capture Mr Robinson's attention, another spate of misfortune saw the opportunity to play Rugby League presented to him, something he grasped with both hands.
"After Tiger Academy, some players went to play in the Pro Rugby League and I actually went to Golden Gate, but I got hurt and didn't get to make the San Francisco team. From there I ended up finding rugby league with Toronto Wolfpack," he said.
"They had a try-out and a couple of friends suggested I go, and that I would enjoy it, and I did. I fell in love with it and played all over the World in Australia with the Stingrays in Wollongong and then in Serbia before playing in USA RL. I played for the Brooklyn team and won a Grand Final.
"I was selected to play for the USA Hawks, most recently against the Cook Islands in a World Cup qualifier."
So, the question to Mr Robinson is to ask what is his preference, League or Union?
"I see myself as a rugby player. I don't see it as league or Union, Tens or XVs. At the end of the day rugby is just a great game to be involved with across any format, it is just fun to be in a team setting, getting around the guys and all coming together for one goal, which is to win."
With the squad the Asia Pacific Dragons have compiled, there is no doubt they will be competitive. Having only arrived in a few days ago Mr Robinson, who will be able to play across the backs and as a forward, has enjoyed the training camp so far.
"I've only been here a few days, but it has been amazing. The name of the side (APDs) holds so much weight around the world, I want to make sure I represent the team and the name in the correct way and go out there and show my talents.
"At the end of the day it is not really about me, it is about the team and if we work hard and stick to the game plan I think we will do well in this Tens tournament."
The quick and powerful player is hoping this is just the start of more Tens to come and believes this format will suit his attributes.
"It's my sort of game. I'm a fast guy and pretty big and strong, so I think having more space will be great. Although I know how important it is to get the technical detail and fineness of rugby into a Tens format. I think the key elements of game are going to be crucial; rucks, lineouts, scrummaging are all key pieces of the game that I'm looking forward to and so are the other cross over athletes out of the combines."
This is Mr Robinson's first time in Bermuda, and he is enjoying the scenery and the hospitable locals.
"I've never been here, but it is not to dissimilar to Jamaica where I was recently with USA Rugby League. The island vibe, chilled, lovely people, clear waters it's relaxing and allows you to focus on the rugby with no distractions which is great."
Mr Robinson will be action with the Asia Pacific Dragons when the WTS tournament gets underway this weekend.

Read More About