Rhinos Rugby lead the World Tens Series League after Round One following a last gasp win against London Royals in the final match of the day.
Both Rhinos and the Royals went into the contest with 100% records and the contest itself didn't disappoint. It was the team from Southern California that dominated territory and possession, but an opportunistic intercept try from Ross Neal, against the run of play, gave the Royals a 6-0 lead at the break.
The second half was keenly contested, but with only seconds left on the clock AJ Davis showed great feet to glide through the Rhinos defence to score, what would have been, the match winning try. Rhinos used their Captain's Challenge and the try was ruled out and the game was still alive.
With no time left and in difficult conditions, Rhinos kept playing and were rewarded with a try for Cyrille Cama. Carl Meyer kicked the two-point conversion to give Rhinos the win and top of the league status.
Rhinos got day two action underway with another tight victory against a highly competitive Miami Sun outfit.
Courtney Winnaar scored the vital try with four minutes remaining to level things up and that man Carl Meyer knocked the two-point conversion to give Rhinos the win.
The most physical encounter of the weekend came from APDs and Ohio with the Aviators claiming a 11-10 win thanks to a late try from Tongauiha and a one-point conversion from Ben Cima.
The Royals scored six tries to defeat Phoenix before Miami upset the Aviators 11-10 in the following encounter.
The Sun scored two tries, including a great effort from DTH Van der Merwe. Nick Bowyer kicked a one-point conversion to secure the win.
The APDs played some scintillating rugby in their 44-0 win against Phoenix before the top two met in the round one finale.
Phoenix top the table after the opening round on 16 points, closely followed by the Royals on 15 points.
WTS action resumes next weekend at the Bermuda National Sports Complex for round two of the World Tens Series League.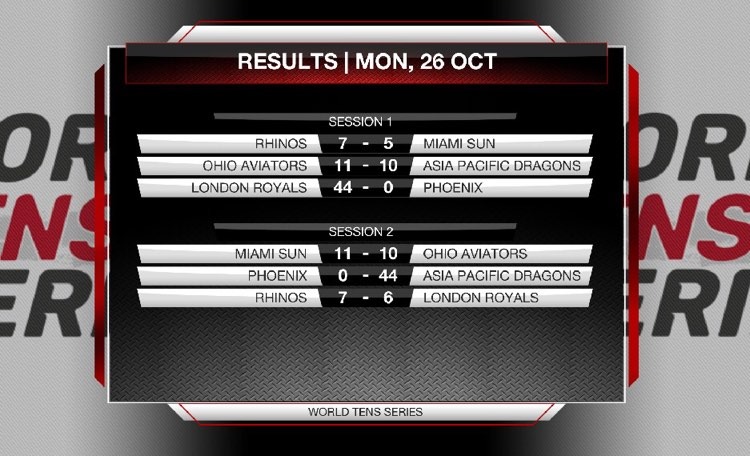 Round One results
Day One
Session One
London Royals 23 v Miami Sun 6
London Tries: Tries: Norton [1], Bowen [10], Busby [13], Coetzee [16]; Conversions: Elan-Puttick [3 points]
Miami Tries: Janry du Toit [18]; Conversions: Lalasava [1 point]
Ohio Aviators 26 v Phoenix 0
Ohio Tries: Howard [4], Rodriguez [9], Eloff [15], Riley [19]; Conversions: Cima [6 points]
Rhinos 16 v Asia Pacific Dragons 5
Rhinos Tries: Meyer [13], Nott [17]; Conversions: Meyer [6 points]
Session Two
Rhinos 12 v Ohio Aviators 0
Rhinos Tries: Meyer [9], Hidalgo [15]; Conversions: Meyer [2 points]
Miami Sun 32 v Phoenix 0
Miami Sun Tries: Van Der Merwe [2], Hughson [6], Tuamoheloa [11], Bowyer [14], du Toit [17], O'Keefe [19]; Conversions: Lalasava [2 points]
London Royals 12 v Asia Pacific Dragons 0
London Royals Tries: Emery [10], Elan-Puttick [19]; Conversions: conversion Aguirro [1 point], Elan-Puttick [1 point]
Session Three

Rhinos 38 v Phoenix 10
Rhinos Tries: Tries: Cama [3], Meyer [9], Regan [4,10], Kindregan [14], Widmer [18]; Conversions: Myer [8 points]
Phoenix Tries: Douyon [16]; Conversions: Turner [5 points]
London Royals 11 v Ohio Aviators 10
London Royals Tries: Mitchell [9], Busby [18]; Conversions: Aguirro [1 point]
Ohio Aviators Tries: Hattingh [5]; Conversions: Cima [5 points]
Asia Pacific Dragons 20 v Miami Sun 0
Asia Pacific Dragons Tries: Naikatini [2], Naromaitogo [12], Saunitoga [18]; Conversions; Bell [Five points]
Day 2
Session 1

Rhinos 7 v Miami Sun 5
Rhinos Tries: Winnaar [16]; Conversions: Myer [2 points]
Miami Sun Tries: Satuva [18]
Ohio v APDs 11-10
Ohio Tries: Penalty Try [8], Tongauiha [20]; Conversions: Cima [1 point]
APDs Tries: Saunitoga [12]; Conversions: Bell [5 pointer]
Royals 44 v Phoenix 0
London Royals Tries: Onojaife [5], Davis [8, 20], Bowen [10], Haley [13] Emery [16], Conversions: Elan-Puttick [3 points], Emery [11 points]
Session 2

Miami Sun v Ohio 11-10
Miami Sun Tries: DTH Van der Merwe [8], Tuamoheloa [18]; Conversions: Bowyer [1 pointer]
Ohio Tries: O'Toole [10]; Conversions: Cima [5 pointer]
Phoenix v APDs 0-44
APDs Tries: Saunitoga [7], Samisoni [9], Nale [10], Bell [12], Alosio [17], Khutsishvili [19]; Conversions: Bell [13 points], Khutsishvili [1]
Rhinos v London Royals 7-6
Rhinos Tries: Cama [20]; Conversions: Myer [2 points]
London Royals Tries: Neal [5]; conversions: Elan-Puttick [1 point]

Read More About