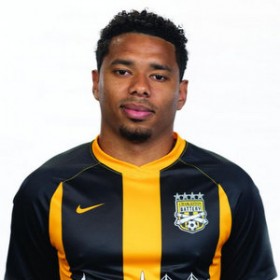 Bermuda's Zeiko Lewis has been nominated for Offensive Player of the Year and Most Valuable Player, and fans can cast their vote online for the Bermudian footballer.
The Charlotte Battery football team notes that Lewis had "17 appearances, 6 goals, 2 assists, 27 shots, 16 shots on target."
The club said, "In an unprecedented 2020, the Black and Yellow rose to the challenge and pulled off one of their most exciting seasons yet. An inaugural season for our new home at Patriots Point.
"A nine-game unbeaten streak spanning nearly two months. A conference semifinal appearance for the first time since 2016. A three-game winning streak against longtime rival, the Tampa Bay Rowdies. There is much to celebrate after such a unique, albeit shortened, 2020 season.
"Brilliant individual and team efforts up and down the pitch defined the Battery's success this year, laying the groundwork for what will be another exciting season in 2021. But for now, it's time for you, the fans, to have your say and select the best of 2020 with our annual Player Awards!"
Click here to vote online. Voting will remain open until Tuesday, November 3.

Read More About