The Bermuda Bicycle Association 2020 Presidents Cup Road Race was held this morning [Nov 23], with Dominique Mayho and Caitlin Conyers winning the race,
A spokesperson said, "The course was 60.5 miles this year, shortened due to road works, but nonetheless a serious challenge for all.  Dominique Mayho [VT Construction] won the race for the fifth time [out of seven editions], edging out juniors Liam Flannery [Team Gnosis] and Nic Narraway [Winners Edge].  Zander Miller [Winners Edge], who had been a part of the four man breakaway, was just behind at the finish, having run out of energy on the final hill.
"Chasing for more than half the race was a trio from Team Gnosis, comprised of Tyler Butterfield, Alexander Pilgrim and Nicholas Pilgrim.  The teammates were never able to close the gap to the leaders but fought the entire way to be able to contest the win.
"Caitlin Conyers [Bicycle Works] was the first woman to finish, coming in north overall, and Ashley Couper [VT Construction]was second woman, just 8 seconds behind Conyers with Nicole Mitchel [Winners Edge] in third.  These two were part of the main peloton which numbered more than 30 riders in the middle of the race but was gradually reduced as the miles took their toll.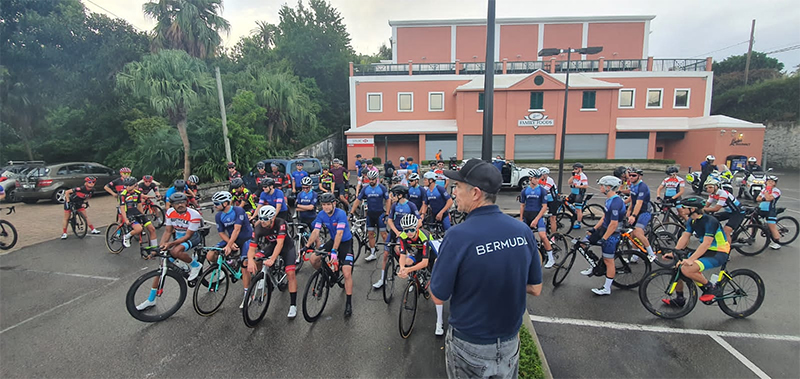 "With various roadworks in progress along the traditional route of this season-ending road event, descending Corkscrew Hill was a new feature as was a detour through Tamarind Vale in Warwick.
"Both locations, plus the use of Middle Road in Devonshire, made for a more challenging route and will probably feature in future editions of the race.  The Presidents Cup race was started in 2014 to mark the 40th anniversary of the Bermuda bicycle Association's founding and to recognize the men and women who have served in the capacity of BBA President over the years.
"The BBA would like to thank to public for their consideration for the race to at times hold up road traffic, with support from Bermuda Police Service."
The full 2020 Presidents Cup Road Race results follow below [PDF here]:

Read More About