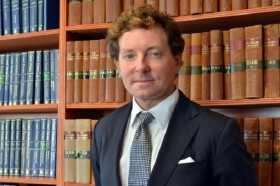 Police have confirmed that Justin Williams "is in the custody of U.S. Authorities" and said they are working "to secure his return to Bermuda with regard to matters under investigation."
A spokesperson said, "The Bermuda Police Service [BPS] is aware Mr. Williams is in the custody of US Authorities. The BPS is working to secure his return to Bermuda with regard to matters under investigation."
The police had previously confirmed to Bernews that they passed the relevant "files to the Office of the Director of Public Prosecutions and we await the outcome of their review of the evidence."
Mr Williams, a lawyer, has been in the United States for some time.
Back on December 31, 2019, the police released a statement which did not specifically refer to Mr Williams by name, but is widely understood to be in reference to him, which said, "Following a search of a property by the Bermuda Police Service [BPS], on Saturday 9th November 2019, in the Fairylands area, police are seeking the return to Bermuda of the owner, who is currently in the United States, for interview in regards to an ongoing criminal investigation.
"Two warrants, one under the Firearms Act and another under the Police and Criminal Evidence Act, otherwise known as PACE, in relation to ongoing investigations which the BPS is conducting.
"We are investigating several matters including firearms, corruption and crime related matters. If there is anyone in the neighbourhood who is aware of anything they would like to speak to us about, they can speak to our Vulnerable Persons Unit in confidence".
Read More About