After adjusting for the retail sales rate of inflation – measured at 0.7% in August – the overall volume of retail sales increased 9.2% when compared to August 2019, according to the recently released Retail Sales Index.
Minister for the Cabinet Office Wayne Furbert said, "The retail sales growth in August provided some encouraging signs, and that's good for Bermuda's economy.
"We saw significant increases across the board in several retail sectors during the month of August, and that's extremely important considering our challenges due to Covid-19. It's encouraging because residents are doing their part to support local jobs and our local economy."
Chart extracted from the report: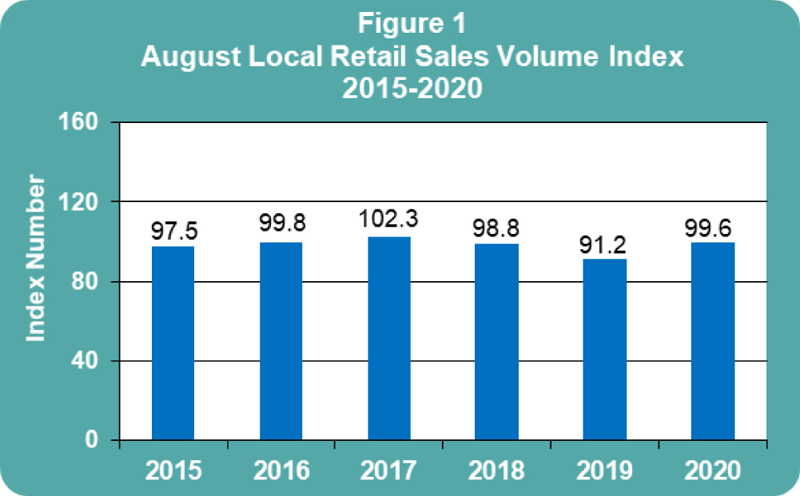 Minister Furbert noted that five of the seven retail sales sectors experienced positive growth in August 2020 compared to August 2019.
Minister Furbert continued, "When we take a closer look at the key performances of each retail sector, we could see that five of the seven sectors experienced positive growth in August 2020. Motor vehicles experienced the largest sales volume increase of 43.6 % due to a greater number of cars and motorcycles being sold. We also saw some bright spots with the building material stores.
"They experienced a 12.0 % growth in the volume of sales boosted by an increase in home improvement projects. And food stores and liquor stores recorded a 10.8 % and 9.8 % growth in volume sales, respectively.
"The encouraging retail activity is due to in part to several factors. Restrictions on residents being able to travel, meant that many goods and services were purchased on island.
"Additionally, Government revised policies by reducing red-tape to support local businesses and the local economy. A streamlined planning process means planning approvals and building permits are being issued more frequently. This change is now bearing fruit with an increase in building projects and an increase in sales by building materials suppliers.
"In the 'All Other Store Types' sector, which comprises stores selling household items, furniture, appliances, electronics, pharmaceuticals, marine supplies and tourist-related goods, we saw a 12.2 % rise in sales volume. This was due to sales at pharmacies, sales of boating supplies, furniture, appliances and electronics.
"While the numbers were encouraging in certain sectors, we do recognize that there were still some areas that had lackluster growth. For instance, sales of tourist-related goods were lower as there were fewer visitors on the Island during the month.
"Also, retailers of fuel and apparel experienced declines in sales during the month, with service stations posting a marginal 0.8 % drop in sales volume. Apparel stores experienced a 28.4 % decline in sales partly due to fewer apparel retailers and residents deciding to purchase apparel goods overseas via courier.
"Meanwhile, total selected overseas declarations increased 4.2 % in August 2020 compared to August 2019. The rise in overseas declarations saw greater imports of clothing, medicaments and jewelry. Imports were received via courier, residents through the airport, households by sea and the Bermuda Post Office."
"After adjusting for the retail sales rate of inflation, measured at 0.7 %, the overall volume of local retail sales increased 9.2 %."
The full August 2020 Retail Sales Index publication follows below [PDF here]:
Read More About