Following a burglary at a Paget residence today [Jan 4] two suspects, one male and one female, were taken into custody.
A police spokesperson said, "Shortly before 10:45 a.m. today, Monday 4th January, 2021, police received a 911 call, reporting a burglary in progress at a Train Track Lane, Paget, residence.
"The caller stated one of the suspects, who was confronted by an occupant of that residence, was armed with a knife. However, there were no reported injuries.
"One suspect was described as a brown skinned male, approximately 5' 7" tall, of chubby build, wearing long black Adidas pants, a black jacket and black sneakers.
"The other suspect, a female, approximately 4' 10" tall, with red hair worn in a pony-tail, wearing a black shirt, blue shorts and turquoise Crocs.
"Acting on information received, officers were able to identify and locate the suspects who were subsequently taken into custody and are expected to appear before the courts in due course."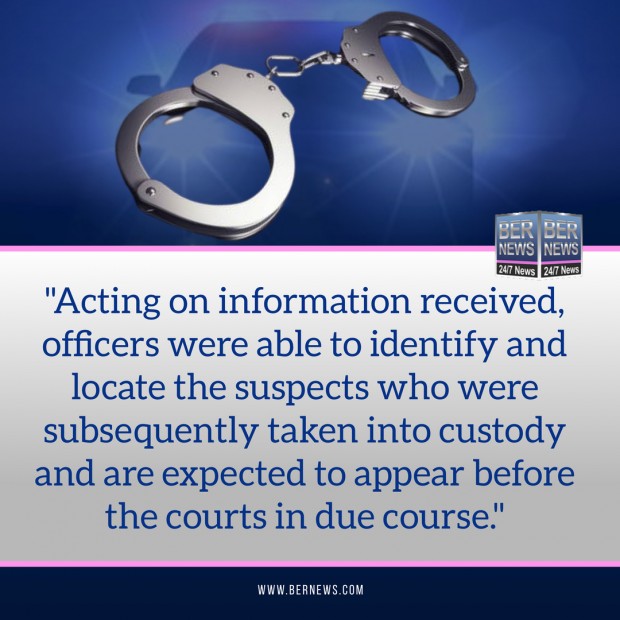 Detective Superintendent Nicholas Pedro, Officer in Charge – Crime Division, praised those members of the public who provided the information which led to the arrests of the two suspects.
Detective Superintendent Pedro said: "This is another example of the success that can be achieved when the community and police work together to make our island home safer. Someone saw something and said something, resulting in not only the arrests of the two suspects, but also the recovery of items taken from the residence during the incident.
"As the investigation continues, I urge anyone who may have seen anyone fitting the descriptions of the suspects or, have any information on this incident to call 211 or, the main police number, 295-0011."
Read More About