The Bermuda Cancer & Health Centre has received a donation of $3,000 from Jamie Madison Collection, which was raised from the widely successful sale of their signature 'Aniah' jackets.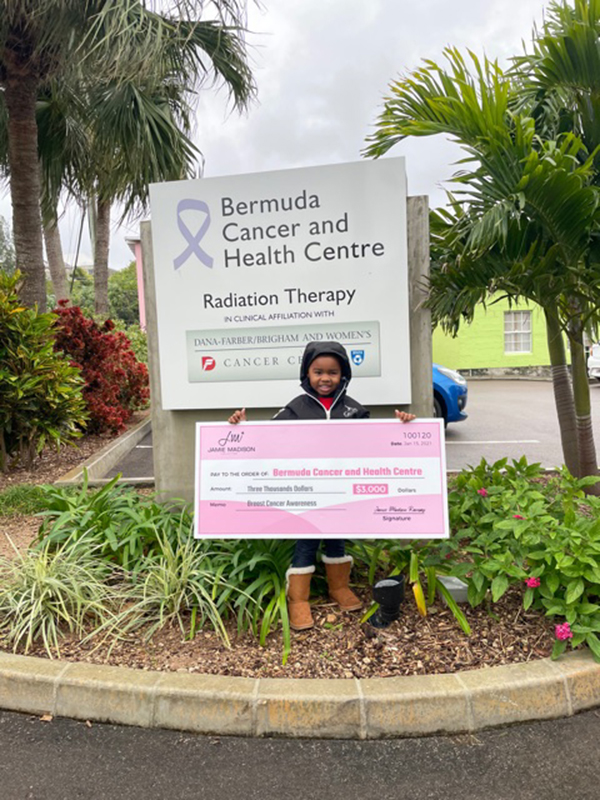 "Funds raised have been tremendous and we are thankful for everyone who contributed to this initiative," says Jaime Ramsay, Designer at Jamie Madison Collection.
"Many people will continue to benefit from the amazing services provided by the team at the Bermuda Cancer and Health Centre as a result of donations, and we're happy to be a part of that process."
A combined effort, the apparel company worked with BCHC to develop an easy way for the community to shop and give back at the same time. For every 'Aniah' jacket sold, part proceeds were donated, amounting to a $3,000 donation.
Azuree Williams of the Bermuda Cancer and Health Centre stated, "We're so excited to have had the opportunity to work with a socially responsible business such as Jamie Madison Col- lection.
"Even during these challenging times, Jamie Madison has not wavered from their added value promise to their clientele to support cancer awareness in Bermuda – in the case of the beautiful pink Aniah jacket, Breast Cancer Awareness. We'd also like to thank the public for their part in making these purchases so we may continue to provide Equal Access for those who may not be in a position to afford a potentially life-saving mammogram."
The company added, "Follow @JamieMadisonCollection on Instagram and Facebook for more information about their products, events, and community support."

Read More About
Category: All