Lindo's Group of Companies and the Bermuda Diabetes Association will be hosting their annual fundraiser walk/run over the weekend of March 19th – 21st in a new virtual format centred on St George's.
A spokesperson said, "The event, usually the Lindo's to Lindo's Walk/ Run, is taking a physically distanced approach this year with participants completing a tour of St George's in their own time, at their own pace, over the weekend of the 19th. The route that has been laid out will see walkers and joggers start off in St George Square, heading out past Gates Fort, the new St Regis Hotel and Tobacco Bay, before returning to the square via the golf course and the Unfinished Church.
"Participants are urged to showcase their participation and support the event by posting selfies at key points of their walk and posting them to their Facebook page:
Gates Fort
Virginia settlers' plaque
Tobacco Bay
St George's Golf Course
The Unfinished Church
"Those who take part will be in with a chance of winning one of three restaurant vouchers, four Esso gas gift cards or, if they raise more than $100, two roundtrip Jet Blue travel certificates, any city to any city.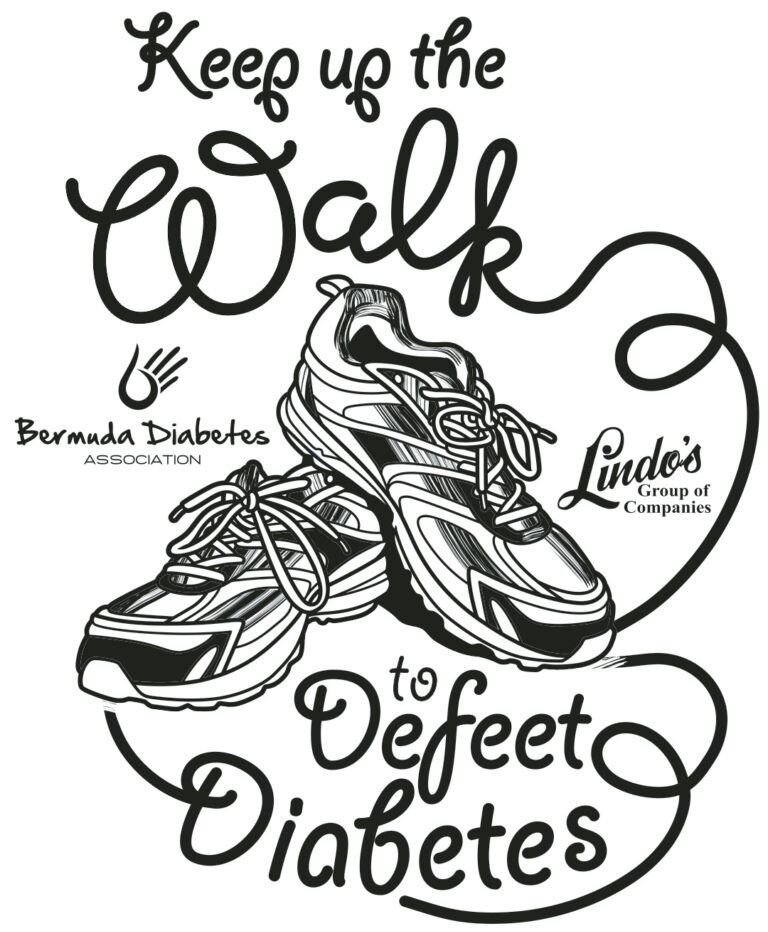 "Entrants will also receive other perks from local business in St George's to recognise their donation to the Bermuda Diabetes Association:
Participants who eat or drink at Wahoo's Bar and Grill before or after their circuit can show their bib to be in with a chance of winning a $100 voucher.
The Wharf Restaurant & Bar is offering participants who show their bibs a 10% discount on their lunch or dinner during the weekend.
Sea Glass by Kelly is offering 20% off of all jewellery for entrants.
Bermuda Linens and 1612 Provisions are offering a 10% discount off purchases all weekend with proof of participation.
"Those who would like to take part can register online at RunSignUp.com here and entry is $20 per person. Each entrant will receive an event tee shirt and a water bottle from BDA Spirits. All funds raised will go towards the Bermuda Diabetes Association's work in combatting Bermuda's extraordinarily high rate of diabetes, estimated to be at around 13 per cent – almost twice the global average. Education is a particular focus this year, ensuring that those with diabetes are fully empowered to manage their condition with an emphasis to ensure accessibility to support and diabetes education regardless of insurance status. There has been a dramatic increase in those now underinsured or uninsured and therefore an increase in funding necessary to make sure programs are accessible to everyone.
Zach Moniz, Lindo's Family Foods Manager, said: "We are extremely pleased to be able to support the Bermuda Diabetes Association again this year. This is a great incentive for people to get some fresh air, stretch their legs and enjoy the sunshine while raising funds for an incredibly important cause. We hope to see everyone out in St George's wearing their tee shirts!"
Sara Bosch de Noya, Diabetes Educator, at the Bermuda Diabetes Association, said: "After the events of the past year it is important to us to keep the community focused on health and wellness and physical activity. We wanted to be able to continue the momentum of this event. It is an important fundraiser on our calendar, and we are so very grateful for the continued support of the Lindo's family and for their commitment to diabetes care in Bermuda."
"Water bottle and tee shirt pick up will take place Wednesday 17th and Thursday 18th March from 8:30am to 4:30pm at the Bermuda Diabetes Association at 22 Princess Street in Hamilton."
Read More About