The second event of the National Museum of Bermuda's [NMB] "Tracing Our Roots/Routes" programme will be held on Wednesday, March 17th at 5:30pm AT via Zoom.
"A panel of local experts: Jane Downing, Registrar, National Museum of Bermuda, Ellen Hollis, Local Studies Librarian, Bermuda National Library, and Mandellas Lightbourne, Archivist, Bermuda Archives will share information about how to find and use local resources to discover your family's history," a spokesperson said.
"Ms. Downing, Ms. Hollis and Mr. Lightbourne will provide information about local resources like birth, marriage and death registers; church records; records related to enslavement; wills; parliamentary registers; and local newspapers. NMB will provide a free toolkit with resource listings, contact information and links to help participants on their journey of family discovery. To register: click here.
"This event is the second in the "Tracing Our Roots/Routes" programme. The first was presented by Kenyatta Berry, an American genealogist, author, attorney and television host of PBS's "Genealogy Roadshow". Ms. Berry provided tips on how to interview living relatives, use genealogy methodology, and access US and immigration records for those who left Bermuda for the United States. The event was recorded and is available to watch here. NMB staff recommend watching Ms. Berry's presentation before participating in event two."
NMB Executive Director Elena Strong said: "Kenyatta chose to follow the story of a Bermudian man who moved to the US in the early 20th century, and we were all pleasantly surprised to learn that a descendant of his was a participant in the webinar, causing Kenyatta to do what she calls her "genealogy happy dance"!"
"Tracing Our Roots/Routes" is a year-long series of online presentations and workshops by overseas and local experts, and an on-site contemporary art exhibit will support and encourage family history research and connections to the past.
When asked about the programme, Lisa Howie, NMB Director of Learning & Engagement said: "This programme is very close to my heart. I have had a recent family history discovery thanks to an article in the Royal Gazette about Charles Wotten a Bermudian seafarer who was murdered by a racist mob in Liverpool 1919. Using the church records held in NMB's collections, I confirmed that Charles is my great uncle. Further research led to learning about siblings of Charles that were previously unknown. Now, we are set up to find more family in Bermuda and in the US, and maybe in the UK! The records we have in Bermuda are astounding. Please join us for this event – you may make a discovery like mine."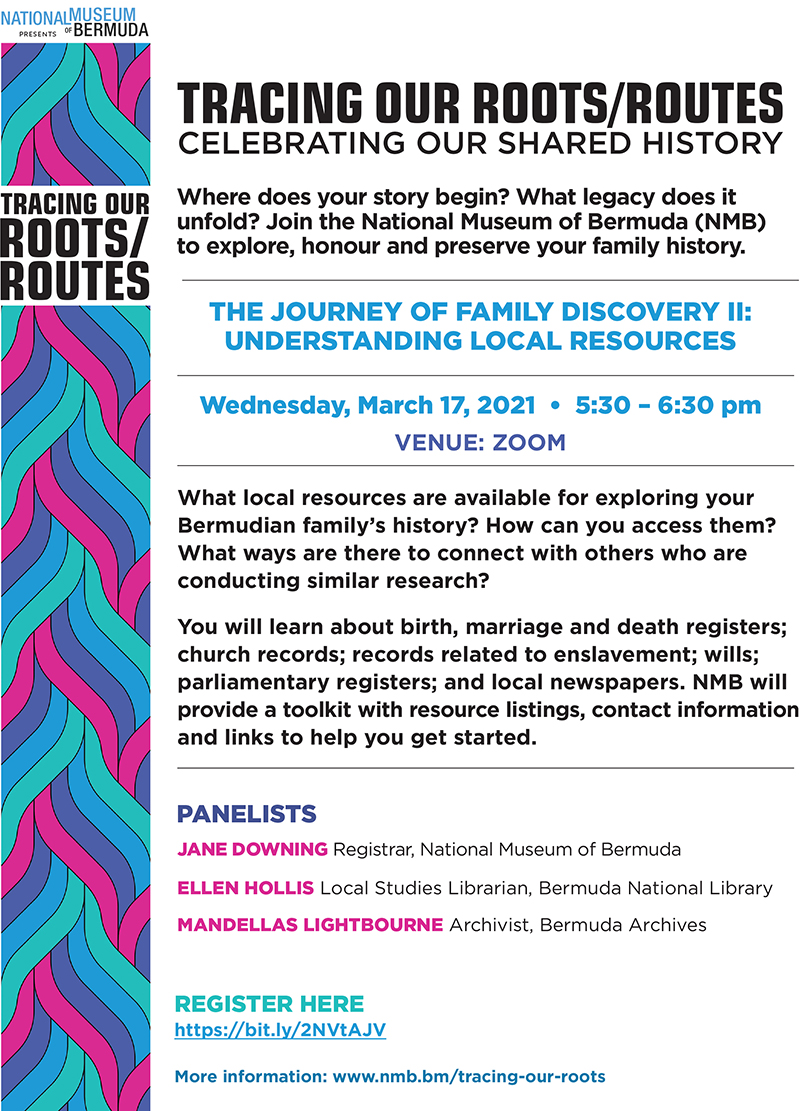 Read More About