The Bermuda Tourism Authority announced changes to spring events calendar, with the Alfresco Dining Festival set to continue, while they will "pause in-person BTA-curated events temporarily, until the health situation improves."
A spokesperson said, "Due to updated health and safety guidelines, the Bermuda Tourism Authority [BTA] will make some changes to its spring calendar of events.
"Two food experiences, Easter Saturday Brunch and Bermudiana Live will be postponed indefinitely. While both experiences will be paused, the Alfresco Dining Festival which runs from March 25 – April 3, will still take place with special lunch, brunch, teatime, and dinner options on offer at eighteen restaurants around the island with outdoor seating.
"Adjustments include recently announced restaurant guidelines requiring dining establishments limit groups to six at each table. Organisers have authorised refunds to those who have purchased tickets to the Easter Saturday Brunch event at the Unfinished Church.
The Bermuda Food Harvest Journey, held March 12 at The Loren was an innovative outdoor food event featuring local harvest heroes, culinary artisans, craft beer and spirits makers. The event limited attendance with staggered tour times of 25 people per group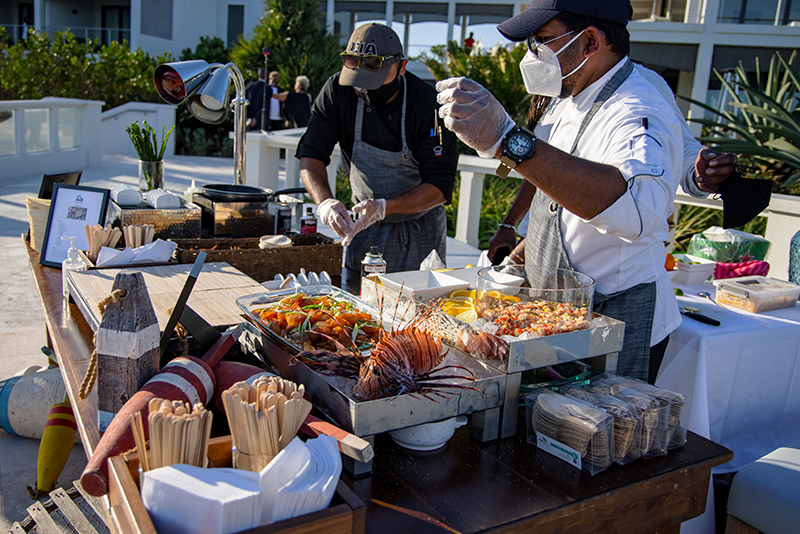 "Alfresco dining feeds consumers' desire for food experiences that embrace Bermuda's outdoor vistas as a backdrop, while keeping health and safety considerations at the fore. So, although the two curated experiences have been put on hold, the BTA encourages diners to embrace the participants of the Alfresco Dining Festival while adhering to the COVID-19 health guidelines including reduced reservation head count.
"Meantime, through its recent success with the Bermuda Food Harvest Journey, an alfresco food tasting event, the BTA and local partners, demonstrated an innovative approach to building safe, outdoor experiences.
"At the event, which took place on March 12 at The Loren, the BTA presented an outdoor food experience with staggered tour times of 25 people per group, restricting attendee numbers and delivering a memorable experience."
"A healthy community is the surest way to a successful tourism recovery," Glenn Jones, BTA Interim CEO and chief experience officer said. "We will pause in-person BTA-curated events temporarily, until the health situation improves.
"As protocols loosen over time, we'll return to our successful blueprint for gathering controlled group sizes to deliver high quality tourism experiences. In the meantime, BTA sales and marketing activity, experience development, and event planning will not pause – this work is too important to the tourism recovery and the livelihoods of many."
The BTA added, "The March 24 Tourism Experiences webinar, due to discuss the spring and summer calendar of events has been postponed until Monday, April 5, 2021.
"The following events of Catamaran and Yacht Week, which was due to start April 8, have also been cancelled:
Catamaran Flotilla | April 9
Marina Nights | April 9
Catamaran Rally | April 10
Float Up Movie | April 10
Breakfast & Bubbles | April 11
Catamaran Dinner Cruise | April 15

Read More About
Category: All, Entertainment, News