The Technology Leadership Forum [TLF] is calling for recent graduates and college students studying Information Technology to apply for its 2021 cohort.
A spokesperson said, "The Technology Leadership Forum continue to support Bermuda's future technologists and are calling for recent graduates or college students studying Information Technology to apply for the 2021 cohort.
"The TLF are reaching out to the community to inform those pursuing a technology degree to apply through the TLF website before the March 31st deadline.
TLF Alumni Luis Correia [2016], Maha Clarke [2020], Cameron Tyler [2020] Matthew Correia [2018] Malachi Butterfield [2020] Eli Smith [2020], Kirk Stapff [2020], Derek Tucker-Peters [2020], Sheldon Jones [2010], Ciera Fox[2014], Jalesa Vincent [2018], Derwin Adams [2011], Justine Dzofonoo-Burch [2018], Jared Pearman [2010], Colin Outerbridge [2009], Angelika Wilson [2013], Chris Philips [2013] and Brittany Easton [2013]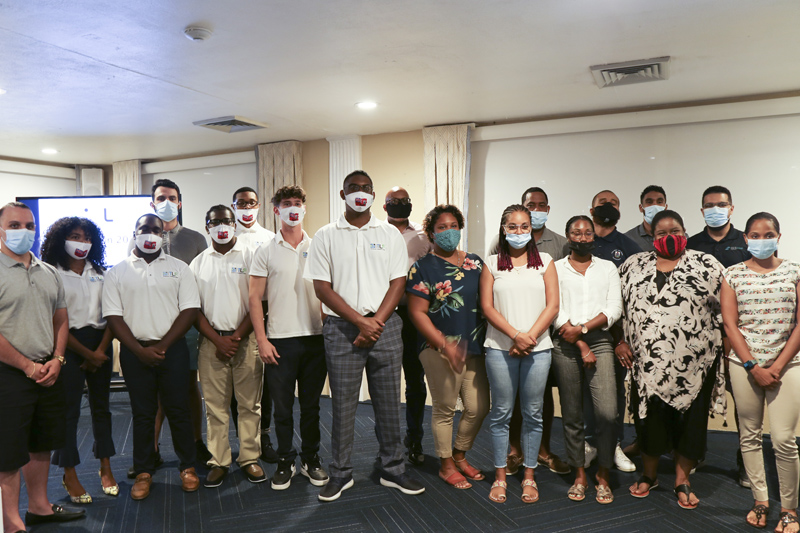 "Successful candidates will undergo an intensive twelve-week paid summer programme combining classroom learning, team projects and work experience at participating companies. This combination of theoretical learning and on-the-job practice is to ensure that the interns acquire a rich experience in the information communications technology [ICT] industry. Interns will develop their networking skills and develop relationships in the ICT community which will guide them in their career pathways.
"The TLF was founded fourteen years ago as a response to the growing need for qualified Bermudian talent in the ICT field. It aims to encourage Bermuda's information technology [IT] students to become exposed to the many varied career paths which they can pursue across many industries.
Ian Cook, Chair of the TLF, "The Technology Leadership Forum has achieved many outstanding successes since its formation that have laid the foundation for numerous ICT professionals that were beginning their careers. Our approach is simple, provide a meaningful professional networking and learning platform for ICT enthusiasts."
"The TLF have over 90 Alumni who successfully completed the program and actively work in the technology industry today. Our alumni are provided continued mentorship and training opportunities to enable them to become Bermuda's ICT Leaders.
"Companies and business leaders interested in supporting the growing need for the next IT leaders of Bermuda are encouraged to become sponsors. As a TLF sponsor your organization receives access to IT Bermudian talent and assists with guiding and mentoring TLF alumni through various professional development and management training opportunities offered by local experts.
"The TLF take this opportunity to thank its valued sponsors and partners who have tangibly demonstrated their support for the initiative over the past year. This includes: Validus Re, the Government of Bermuda, W&W solutions, CCS Group Deloitte, Stablehouse, Liberty Specialty Markets, RenaissanceRe and AXA XL.
"For more information on the Technology Leadership Forum's Internship Programme, Sponsorship and to apply, please visit TLF.bm or email info@tlf.bm."

Read More About
Category: All, technology