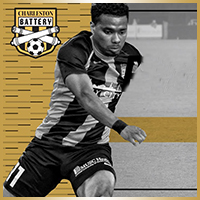 Zeiko Lewis has been named as one of the USL Championship's "Top Five Attacking Midfielders."
In describing the Bermudian footballer, the USL said, "There have been numerous key performers for the Charleston Battery over the past two seasons, but the influence Lewis has had on the team in the attacking third while driving to the USL Championship Playoffs is undeniable.
"The Bermuda international led the Battery in goals each of the past two seasons, while also helping unlock opposing defenses with his passing ability.
"Lewis' 73 Key Passes in the past two seasons may put him just outside the top 20 in the Championship over that span, but the quality of the chances he's created tell an important story.
"According to American Soccer Analysis, Lewis' passing has had a value add of 0.81 goals to his side's performance, tied for eighth-best in the league in that span. Add in his decisive finishing and ability to control and deliver in tight spaces, and his overall added contribution to the Battery has been 2.13 goals, tied for seventh in the league.
"The 26-year-old returns to Charleston for his third season as a centerpiece for an attacking group that also includes the talents of Mauro Cichero and emerging Jamaican forward Nique Daley. But Lewis maintaining – or improving on – the performances he's produced so far is going to be a key element in the Battery's sustained attacking success."

Read More About